5 ways to find success in Product Management
By Ari K., Senior Associate, Product Management
There's no business school major for product management. And, there's a good reason for that—there is no one way to be a product manager. Product managers come from exceedingly diverse backgrounds—I was a women's studies major, for example, before I began my career. So that begs the question...if there's no one way to be a product manager, how do you become one and, more importantly, how do you succeed?
Not long into starting my first product role, my manager told me that every product manager "does" product differently, and that I would have to find out what kind of product manager I wanted to be. This changes as you develop more experience and try new roles, but it's valuable to have a sense of what's important to you and what you're good at so you know how to set realistic yet ambitious goals. I've spent the past couple months discovering what style of product manager I want to be, and in doing so, I've come up with a few tips that not only help in figuring out what kind of product manager you want to be, but how to succeed as a product manager early on.
What do product managers actually do?
A product manager works primarily with experience designers and engineers to develop new features and products. The job of the product manager is to make sure every piece of the puzzle is in place for the product to succeed. I've been a product manager for almost a year, and something I've learned about this field is that people bring their whole selves—their experiences, their personality, their unique perspectives—into product management and those unique experiences really shape their approach in a lot of different ways. The daily tasks of a product manager could be done across many different roles—most of us write hefty documentation and produce strategic roadmaps—but there's more to being a product manager than the nitty gritty day-to-day.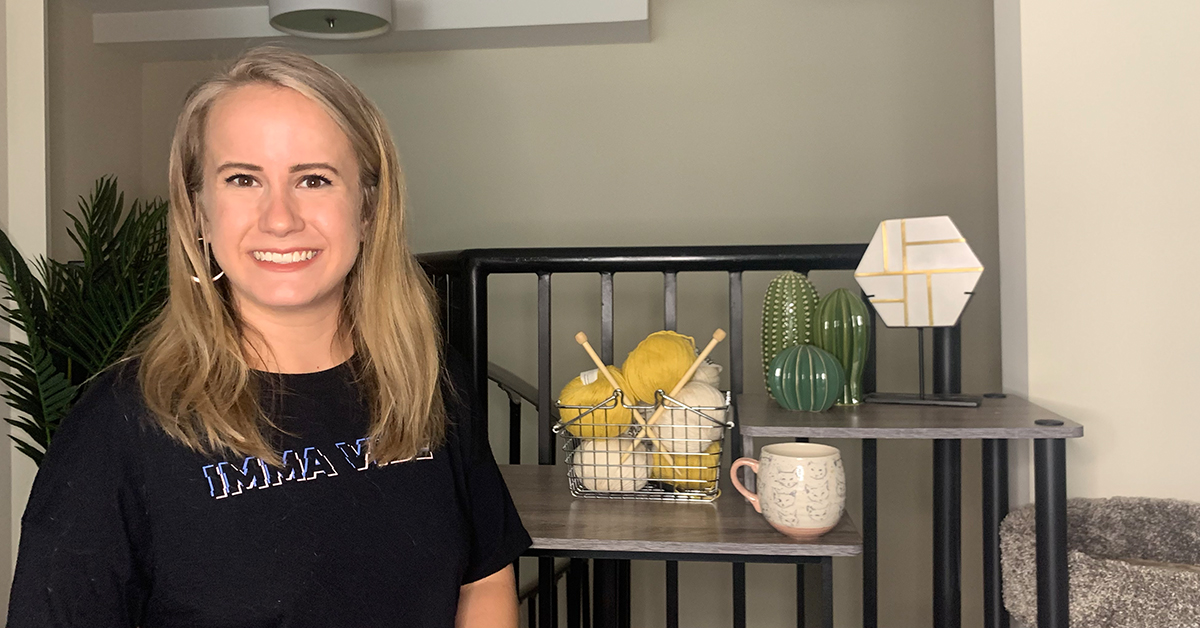 Start with what you know
Everyone has experience in something—even product managers who are fresh out of college, like me. Joining product management at this moment is intimidating—the domain has only recently started to hire recent grads, so the majority of product managers out there are experienced professionals. As someone who's just learning the ropes, and often the most junior PM on a team, it's scary because it feels like you know nothing. So the best place to start is with what you do know.
Because product managers do a little bit of everything, there are few skills that aren't transferable to the discipline. I came into product management with a background in analytics, so my manager gave me an analytical workstream to start. My recommendation is to take on a project that leverages your existing skill set—it lowers the learning curve to give you the confidence that you can do the job.
Pay attention to who you like, and model after them
The best way to learn product management is by watching someone else do it. My manager told me that in meetings with executive leaders, especially the lead of our organization, she would watch and pay attention to what they did. She took note of how they processed information and the questions they asked. Then she takes what she learns and applies it to how she approaches similar situations.
You can take observation & mimic a step further. There's a product manager on one of my partner teams who I think is really good at her job. I like her style of product management, and I realized I wanted to practice a similar style. Rather than learning through observation, I asked her to be my mentor so we can work together on helping me become a better product manager.
You should always be learning. An executive's monthly business review of the product's key performance indicators isn't just an opportunity to see the success of the business—it's an opportunity to see how other product managers think about and present data, or to see how a leader identifies the most important metric in a sea of numbers. I recommend diversifying your learning—pay attention, find a mentor, take a class and ask questions.
Approach it like you would a school project
In simplest terms, a product is something you build. Maybe you're working on a product that needs to launch, or maybe you're working on a product that has existed for twenty years. How would you approach it if it were a group presentation or paper? Usually, a school project follows four steps: Research, Plan, Create and Refine. Product—whether it's a small button on a website or an entirely new offering—follows a similar pattern.
First, you have to figure out what you don't know and what you need to know. Learn as much about the topic as possible. Next, figure out how you're going to write the paper (or, build the product). Then you actually write the paper (develop the product) and edit it (refine through experimentation).
Building a digital product is scary, but writing a paper? You've done that a million times! I suggest going back to what's familiar when managing a product gets overwhelming—because it will.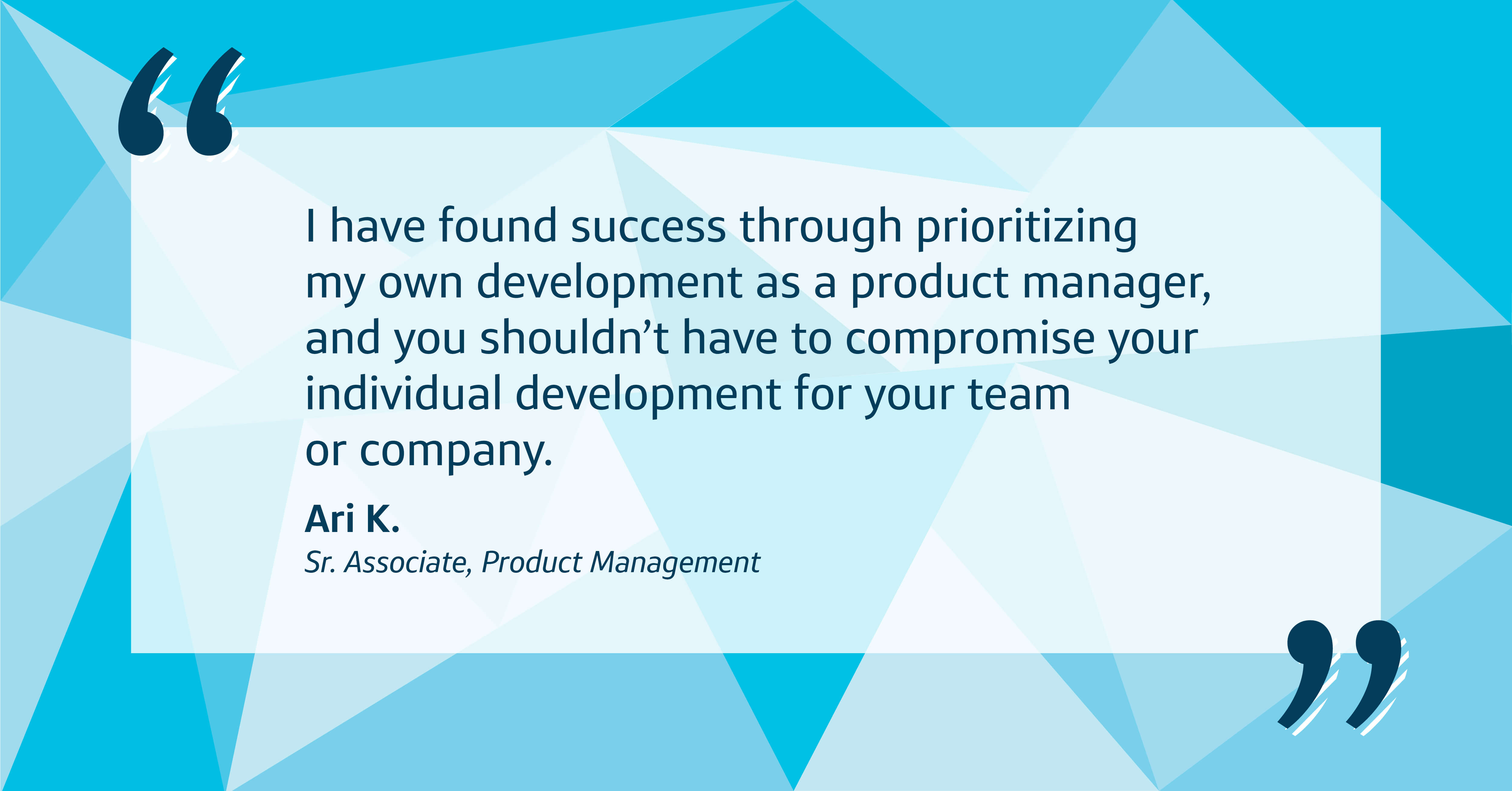 Don't fill a "need"
In the past year, I've also disagreed with some feedback, advice and norms. It's easy to fall into a trap of doing what you think will help you get promoted, doing something just because everyone else is doing it or doing something to "look good." I have found success through prioritizing my own development as a product manager, and you shouldn't have to compromise your individual development for your team or company.
I've heard from a number of executive speakers, managers and mentors, "See where there are gaps on your team and fill those gaps." If your manager is strategic and analytical, you might decide to invest in design thinking courses to add a new perspective to your team. That's fine, but only if that's what you want to do. Don't invest in a skill or discipline only because the team is missing that perspective. If your team is missing a perspective, adding new subject matter expertise could be the best solution. If you're trying to figure out what kind of product manager you want to be, give yourself time and space to define that vision over time and through multiple experiences and teams.
Don't learn skills for the sake of learning new skills
As part of the Analyst Development Program, it was often encouraged that we learn new data processing tools and softwares. I was surrounded by analysts who were conducting advanced analyses with Databricks and Python. I went to my manager and asked him if I could invest my time into learning new tools. Like a good manager, he asked, "why?" and questioned whether new tools piqued my interest, or if it would help me do my job better. The answer to both was no. I thought I had to learn new tools because everyone around me was using them. I felt like I had to learn new skills just to keep up, but I didn't really gain any value from them. But, you have finite time in your day, and you need to be strategic and intentional with how you spend it. Only learn a new skill or tool if it's something of interest to you or it will help you be more efficient or productive.
Longer hours does not equal better performance
If you're newer to the corporate world, you'll hear a myth float around—working longer hours indicates higher performance (and therefore, a more likely promotion). I've never worked extra-long days. Sure, there are the occasional late nights on the work laptop or a slide deck that needs attention on a Sunday. There will be times in your career where you're needed beyond the typical workday. That's good, it means you're valuable to the team. But you don't need to be consistently working long hours just to appear that you're working harder than everyone else. This approach will just lead you to feeling burnt out and not getting nearly as much done than you would with ample time to recharge.
When you're new to product management, there are two key things I think you need to worry about—learning how to do the job, and learning how you want to do the job. Keep it simple, incorporate what you know, pay attention to what you don't know and don't fall into traps of trying to "look good." Success will follow with the right priorities.
Copyright © 2023
Opinions are those of the individual author. Statements are deemed accurate at the time of posting. Unless otherwise noted, Capital One is not affiliated with, or endorsed by, any company mentioned. All trademarks and intellectual property used or displayed are the property of their respective owners.