4 steps to engineer a Tech career you love
By Jared Alexander
Jared is a Senior Manager and engineering Team Lead working on the Capital One mobile app for iOS and Android. Across his 7 years of experience at Capital One, he's also served as the Dean of Mobile for Tech College, building curriculum and teaching workshops, and as an iOS developer for The Lab, where he built proof-of-concept apps and contributed to several patents. In addition to leading and growing his team of engineers (and celebrating their accomplishments), he's passionate about teaching and recruiting. He spent 6 years at George Washington University as an Adjunct Professor and participates in educational activities for Capital One such as onboarding and the Software Engineering Summit.
What's the best way for you to move forward and grow as a software engineer? In my nearly seven years at Capital One, and eleven years in the tech industry, I've had a great amount of career mobility and some amazing opportunities for career growth. Some of this was due to luck, but a lot of it was due to taking some strategic steps with my career development. Here are my top four tips to help you grow and evolve your career.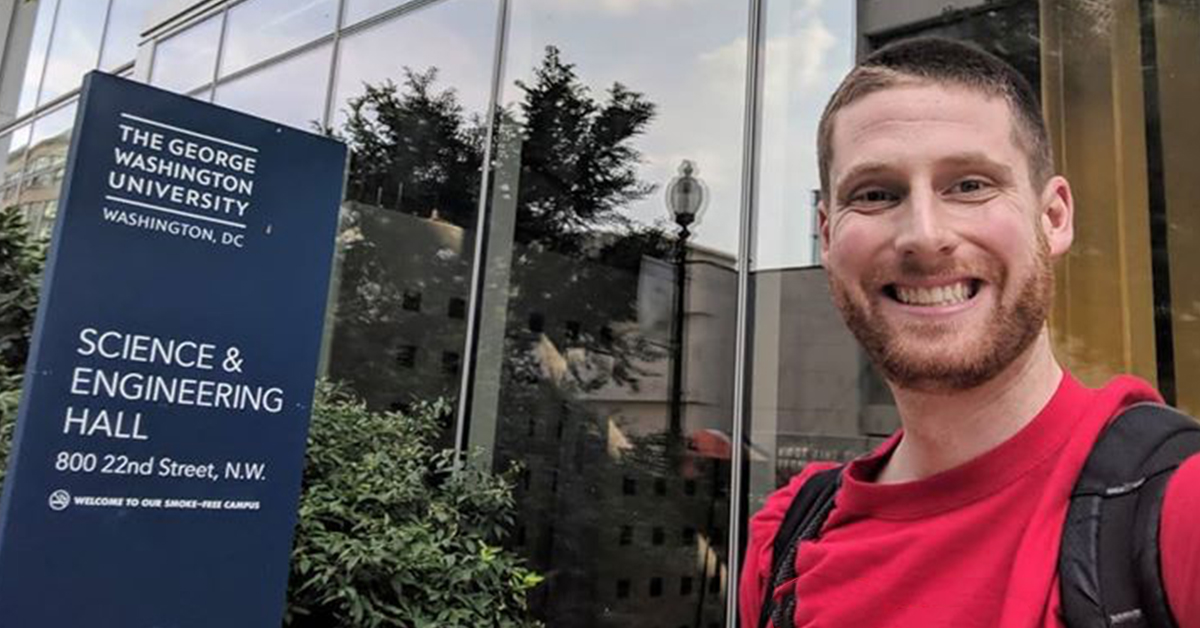 1. Identify your passions in Tech and get experience with the key skills needed
This takes me back to 2007, the year that Steve Jobs unveiled the iPhone. I had to have it, and once they launched the App Store, I instantly became intrigued about how I could build apps for this amazing device. The problem was, I had no mobile experience. The tech was too new and wasn't taught in school, and I was working for a government contractor, with little opportunity to even learn about building apps. I needed to re-skill if I wanted to work on mobile.
Finding your passion can be as simple as diving into new tech that's caught your attention, like I did. Or you can think about the day-to-day routines that you or a loved one have. Are there any pain points or ways to simplify and improve those tasks? How might technology automate a routine task? This can be your puzzle to solve!
On my app development journey, I was already in a great place to grow. I was enrolled at George Washington University (GW) for my Masters in Computer Science, where I took a mobile development course. The assignments and concrete deadlines throughout the course held me accountable in learning mobile development, and became my gateway into building apps. But I still needed real world, hands-on experience to really complete those early stages of my mobile development journey.
Let's jump to Summer 2010—I was engaged and planning for my wedding. Leading up to our wedding, we weren't stressing over the typical things like the venue, photographer, DJ or catering. We wanted a way for our guests to have a fun and interactive experience with one another through live photo sharing, a digital guestbook and DJ song requests. Since this was 2010, there was no easy way to do group photo sharing yet. The social media apps available at the time also didn't have the wedding-specific features we wanted to offer. So we decided to build our own!
Yes, with all the madness of planning a wedding, we squeezed in the task of building an app. I ran Tech and my fiancé (now wife) ran Product—it was a match made in nerd heaven! I spent countless hours outside of my day job learning and building the app, sprinting towards a pretty concrete delivery date: my wedding day. After submitting to the App Store a few times—even being rejected—the app was approved and went live just five days shy of our big event.
It doesn't fit in with today's mobile design standards, but we did it! We eventually went on to build an Android version and I'm proud to say our app supported over 800 other happy couples. And the greatest benefit of all? I successfully reskilled into a mobile developer! Passion projects like this one are the best ways to learn a new skill as you are solving a personal problem you care deeply about.
If you aren't sure where to look to find the skills you need to follow your passion, consider browsing your networks to find someone in the technology field that interests you and ask them for learning resources to help you break into the field.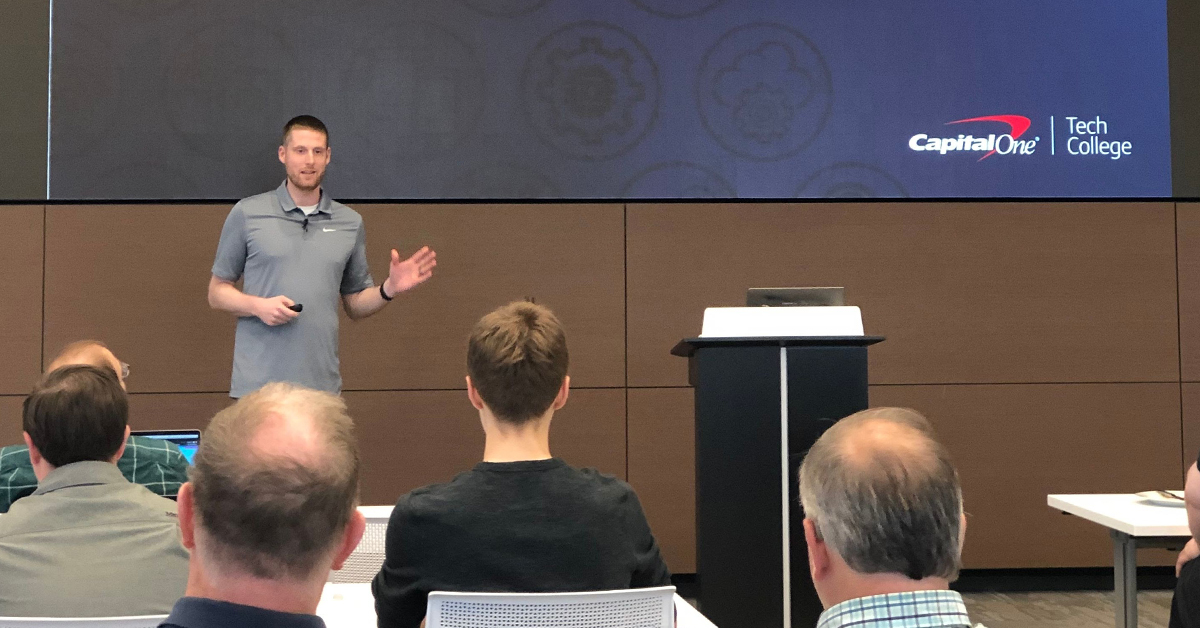 2. Try teaching software engineering to others
Upon graduating from GW, I was presented with an extremely unique opportunity—teaching the Mobile Development class I had just taken a year earlier!
Teaching is one of the best ways to learn a topic more deeply. It forces yourself to revisit the fundamentals and further strengthens your understanding. You'll also expose yourself to a new audience and create connections. To succeed in a tech career, you need the technical chops for sure, but I also realized that soft skills, like speaking and presenting, are equally important to your career progression.
There are many ways to teach others outside of being employed by a school or university—you can share your knowledge in a blog post, create a tutorial or slide deck or host an informal info session at your job or at a public meetup. Teaching is a great way to grow your written and verbal communication skills, while also giving back to those interested in learning and growing.
My own teaching experience opened the door for me to join Capital One's Tech College, our internal engineer-led training organization. Tech College was growing at that time and they were looking for a mobile development learning lead; my name was mentioned and I was offered the job! Over the next 18 months I led the build-out of a Mobile Curriculum and taught workshops across the company. Additionally, my team partnered with Capital One Mobile to help build out Capital One specific mobile training.
3. Build up your network through meetups, volunteering and conferences
I started to become active in the Meetup community early in my career, especially with a local Washington, D.C. meetup called MoDevDC, focused on mobile development. It was through this group that I attended numerous events around the DC area, many hosted at Capital One's offices in McLean, Virginia.
Attending meetups augmented my learning journey, and it was a great way to network and learn about new opportunities. The more I engaged in these meetups, the more the idea of mobile development, building experiences that fit in your pocket and publishing them via the App Store and Google Play to millions of users around the world, continued to invigorate me. I knew I wanted to focus on app development full-time.
I found a new position within Capital One Labs that would allow me to focus on mobile development full time. I applied and was hired! At Labs, I worked closely with engineers, product managers, and designers to build some amazing customer experiences, and even contributed to patents! Another thing I was doing was volunteering to mentor students at college hackathons, and I expanded my Capital One network.
In addition to meetups and volunteering, I found that attending internal and external conferences helped to expand my knowledge on a variety of tech topics and keep me on the lookout for the next exciting opportunity to follow my passions. One conference in particular, our internal Android development summit, led me to my next career step. It was there that I was introduced to another mobile engineer named Jared, simply because he shared the same name. This Jared happened to be an engineering manager for Capital One Mobile.
We kept in touch, met for monthly lunches, and when I started thinking about new opportunities outside Tech College, he let me know he had a Team Lead position available. I've now been in Capital One Mobile in a leadership position for the last three years. We build features that reach millions of customers and it's quite rewarding to know we're helping them in their daily financial lives. I'm also learning a ton about a different side of tech: the people side. As a manager and people leader, I not only focus on building great tech, but also form and nurture relationships on our team as we all work together to deliver exciting new features.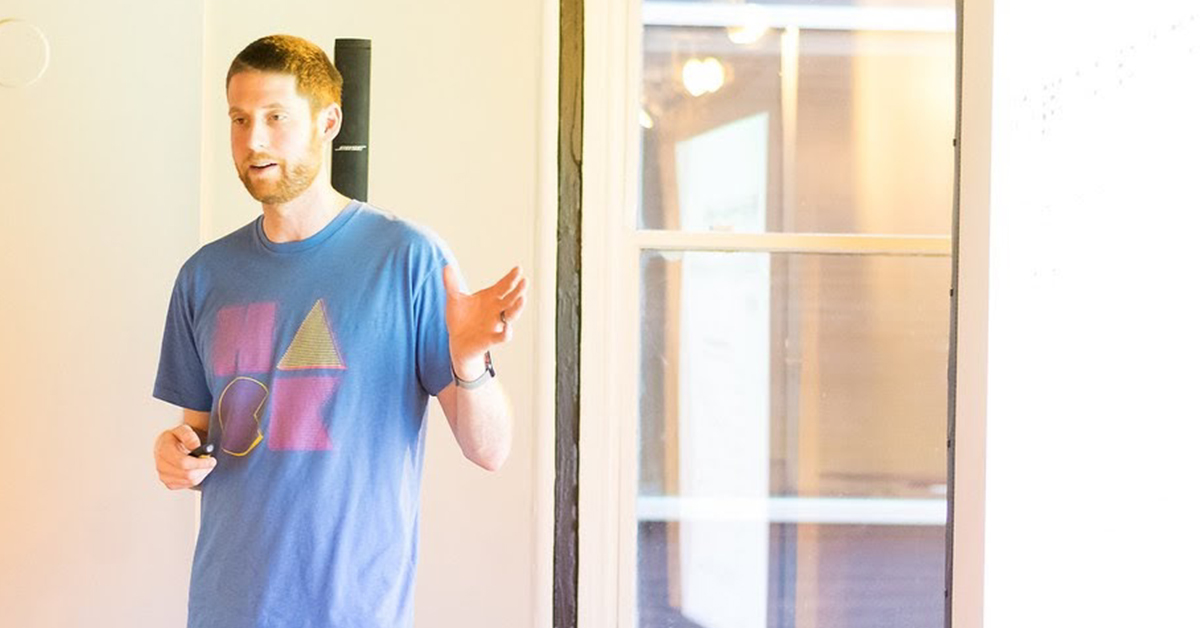 4. Present at a Tech workshop or conference
As I learned with teaching, sharing your knowledge can be a wonderful opportunity to grow your confidence in your skills and expertise. When I was working in my role with Capital One Labs, I built connections with our Students and Grads teams at Capital One and was invited to speak at internal events for our newly hired associates, who recently graduated from college or grad school. It was another great opportunity to teach and inspire others in their tech journey, while also building my own confidence in my work and career.
At this stage in my career, I often use speaking as an opportunity to learn something new as well. It may sound crazy, but I will sign up to give a talk on new technology before I've actually used it—it's a great forcing factor to push yourself! For example, social media apps (such as Instagram and Snapchat) often have fun augmented reality (AR) filters you can apply to photos and videos you take. Most of these filters are created by 3rd party developers, and I've always wondered how they are made.
I often teach workshops to college freshmen and sophomores as part of Capital One's Software Engineering Summit and decided to focus my January 2021 workshop on AR—what it is, how it works, use cases, and finally a hands-on tutorial on how to build AR filters in Snapchat using their Lens Studio software. I signed up to teach a few months before the event, and got to work learning the tool and prepping my material. By the day of the workshop, I had gained a foundational understanding of how to build a filter and scratched my learning itch. I also felt the gratification of providing a fun class for potential future Capital One engineers!
You may not feel comfortable branching that far out of your comfort zone, so do what feels authentic for you. But don't let the nerves or fear of presenting stop you from sharing your insights and perspective. You never know how you could help someone else learn something new, find a new passion or start on a new tech journey.
I hope these few pieces of advice can help you become more proactive in growing yourself and your career. Always remember that YOU own your career—managers and mentors can guide you along the way, but you are the one that will ultimately make things happen. Don't be afraid to try something new or break out of your comfort zone to pursue a new, exciting passion for tech. That is the best way to keep evolving your career and continue learning every day.
Copyright © 2023
Opinions are those of the individual author. Statements are deemed accurate at the time of posting. Unless otherwise noted, Capital One is not affiliated with, or endorsed by, any company mentioned. All trademarks and intellectual property used or displayed are the property of their respective owners.