3 ways to stand out in the workplace
In early 2021, Miranda sent a short, impromptu email to Theresita Richard, head of diversity, inclusion and belonging at Capital One, welcoming her to the enterprise and asking if she'd have 30 minutes for a quick meeting so she could learn about the leader's career.
To Miranda's delight, Theresita agreed. And the two have continued to check in with one another regularly, even discussing how to own your ambition during the Black Girl Magic Digital Summit. Miranda's networking is all part of her effort to succeed while still being herself.
"It's important to stay true to your authentic self because people want to work with sincere individuals," said Miranda, a principal associate within Healthcare Corporate Finance. "Authenticity builds trust, which is the foundation to being able to change banking for good."
Check out Miranda's tips for standing out in the workplace while being yourself.
Tip #1: Find experience that speaks to your brand
Miranda first connected with Capital One while she was a student at Miami University. She attended one of the enterprise's student leadership summits, where she had one-on-one time with company leaders to learn about commercial banking, credit analysis and career opportunities.
The event convinced Miranda that Capital One was the perfect place for her career. The company's emphasis on associates building lasting professional and social relationships aligned with Miranda's goal to be known for empowering others to be their best selves.
"I've stayed because, no matter my level, Capital One creates a space for me to share my voice," Miranda said. "I bring my whole self to work and am proud of the institution I work for."
Miranda completed two internships with Capital One—including one with her current team—and the Commercial Banking Rotational Program. In her job now, she supports the underwriting and portfolio management of three high-value accounts.
Throughout her experiences, Miranda has learned to let her work speak for her brand. She shares milestones on LinkedIn and is open about her goals with her manager. Additionally she uses Capital One's resources like the tuition assistance benefit to financially assist her effort of earning an MBA.
"You never know who is watching your progress, so it's essential to be aware of the brand you're portraying," Miranda said.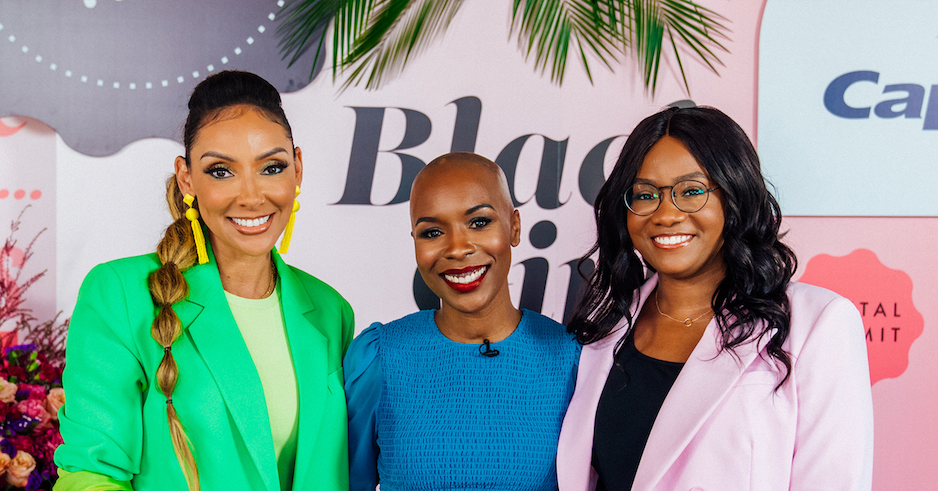 Tip #2: Make genuine connections
Miranda's email asking for a quick meeting with Theresita is part of her mission to capitalize on opportunities to network.
Miranda looks for leaders and colleagues she admires and seeks to emulate, whether it's someone who works in a role she aspires to or has accomplished something she wants to achieve.
She finds these connections through impromptu conversations during meetings and by intentionally reaching out to associates. She also meets coworkers by being a member of Business Resource Groups like empowher—for women and allies—and VOICES—for Black associates and allies.
"Take the time to make genuine connections and look to create your own personal board of directors," Miranda said. "I am young in my career, and it helps me navigate my journey to have counsel from those who have come before me."
There's no pattern to the frequency Miranda meets with her "board of directors." It could be a quarterly meeting or a check-in every six months.
"At Capital One, senior leaders make time for younger associates so they can grow," Miranda said. "There's a culture here that promotes mentorship, lasting connections and continuous learning for both people at every career stage."
Tip #3: Seek and be receptive to feedback
Miranda appreciates Capital One's open culture that relies on feedback to help associates develop. And she acts on that by frequently seeking constructive criticism of her work, whether it's a long check-in with a mentor or a quick Slack message with a colleague.
Miranda regularly asks for feedback on the write-ups about deals her team secures. She also asks colleagues each year for an evaluation of her performance. Miranda finds that once someone understands she's open to feedback, the more willing they are to give it, and the more she'll grow.
"I take all the feedback and assume positive intent," Miranda said. "I love that we're challenged here. It guarantees that Capital One remains a bank our customers can rely on and trust."
Copyright © 2023 Opinions are those of the individual author. Statements are deemed accurate at the time of posting. Unless otherwise noted, Capital One is not affiliated with, or endorsed by, any company mentioned. All trademarks and intellectual property used or displayed are the property of their respective owners.