Building new products with Capital One Travel
When it came time for Sarah to book a trip to Portugal with her sister this year, she knew exactly where to go. As a business manager for Capital One's travel team, Sarah helped create innovative travel solutions, like Capital One's new travel portal, which she and her sister used to find great prices for their upcoming trip.
"We were on FaceTime, looking at the different flight prices with the portal pulled up," Sarah said. "It was such a surreal full-circle moment of seeing this product I spent a lot of time working on being used by one of the most important people in my life."

The Capital One Travel team has developed new products and expanded existing ones to offer Capital One customers a whole new way to travel.
Building new products
In 2020, Jamie, now the senior business director for Capital One Travel, was working on the Travel Rewards team leading the miles transfer program. He saw an opportunity to expand Capital One's travel rewards program to offer top-of-the-line benefits and products.

"At the time, our travel portal was a little bit of an afterthought and not something that we heavily invested in," Jamie said. "I started thinking about how we could revamp our portal and build it into a rewarding and marketable benefit for premium card holders."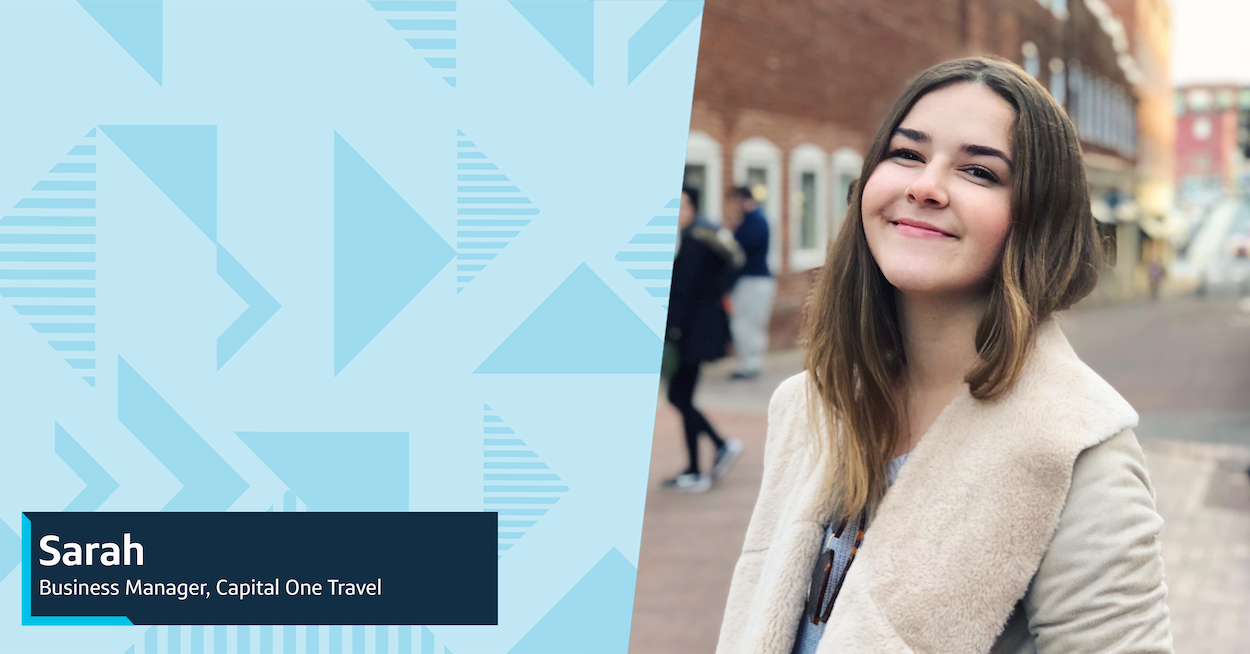 As he began developing his ideas, he started collaborating with Sarah, who was starting her career through Capital One's Analyst Development Program, where recent college graduates jumpstart their career through two year long rotation placements. They worked with leaders across the team, including Jenn Scheurich, vice president of Capital One Travel & Retail Experience, to assist them in outlining the strategy behind the overhaul and refine their vision to focus on what travel products matter most to customers.
"The travel industry is very mature and established, so innovating in these places can be really challenging," Jenn said. "We always want to push ourselves and ask, 'How do we deliver towards where the world is going?'"

Empowered by strategy meetings with leaders like Jenn, Jamie and Sarah began researching the existing travel market to find a potential partner that matched Capital One's commitment to innovation. At the top of their list was Hopper, a flight tracking company that uses predictive models to make the most accurate flight price predictions. The partnership with Hopper provided Capital One the technology to begin building out the new Capital One travel portal, which launched at the end of 2021.
Cindy, a manager of growth strategy, joined the team before launch. Her business analysis helped to bring the products to market and create a buzz around the exciting new features.
"It felt like working at a startup, given that we were basically building a product from the ground up," Cindy said. "So it was really, really exciting. I was able to work at the intersection of product strategy and business analytics."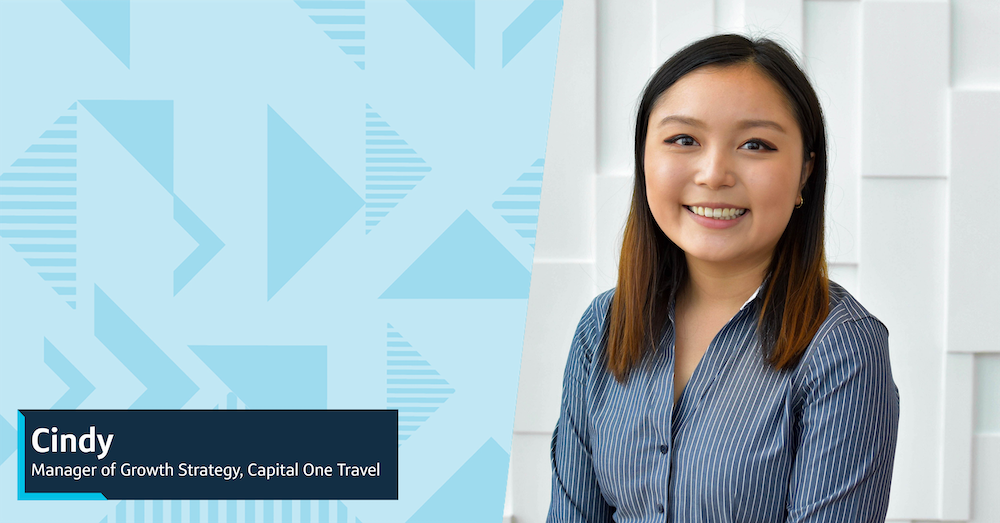 The travel portal was just one of many innovations launched by the travel team. In November 2021, the team partnered closely with the team launching Venture X, which built upon the established Venture line of travel cards to offer premium travel rewards to luxury-minded travelers.
Inspired by the success of Capital One Cafés, Jenn and her team planned the first Capital One lounge in the Dallas-Fort Worth airport. Upon opening in 2021, lounge goers enjoyed amenities such as yoga rooms and Peloton bikes. Since the success of the Dallas-Fort Worth lounge, the travel team is working on two additional lounges at Dulles Airport in Washington, D.C. and Denver International Airport.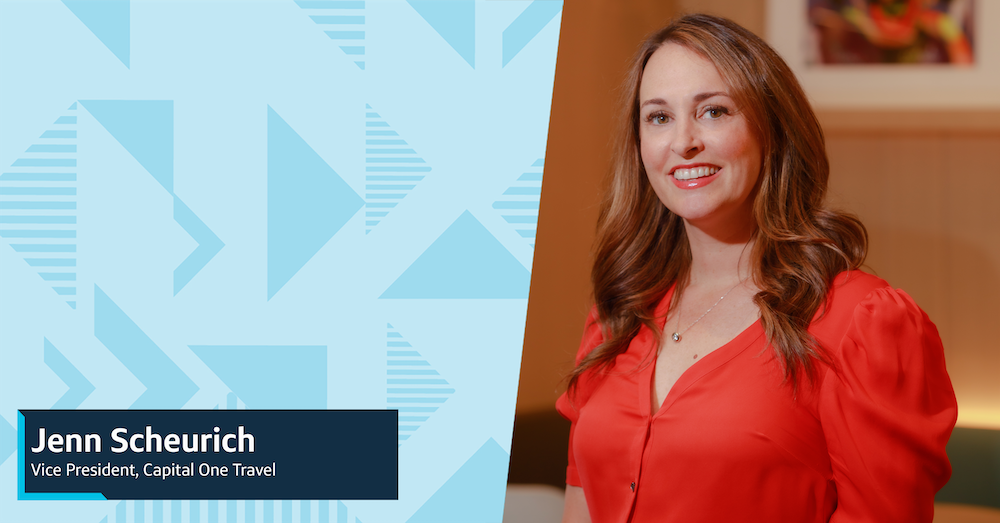 The newest pillar of Capital One's travel strategy is luxury travel benefits, which provide customers with VIP-perks at curated luxury hotels around the world. The first collection for Venture X, the Premier Collection, launched in early 2023. This collection offers customers boutique hotels at the click of a button. When Jenn stayed in a Premier Collection hotel in Barcelona, it was the highlight of her trip.
"It's a super cool, trendy hotel in a very hip part of Barcelona," Jenn said. "The hotels we work with are places that your most 'in the know' friends would share with you. We're excited to be able to bring that to our cardholders."

Offering top-of-the-line products is no easy feat. Jamie credits Capital One leaders for supporting him with resources, time and space to build out his ideas. In addition, the culture of excellence at Capital One creates opportunities for collaboration that made revamping Capital One travel possible.
"There's also a ton of collaboration internally," Jaime said. "It's definitely a huge team effort. Without that support, we wouldn't be able to build new things."
Helping customers see the world
Since launching, the travel team has received glowing reviews from customers who love the ease of Capital One Travel and other benefits like Premier Collection and Capital One Lounge access.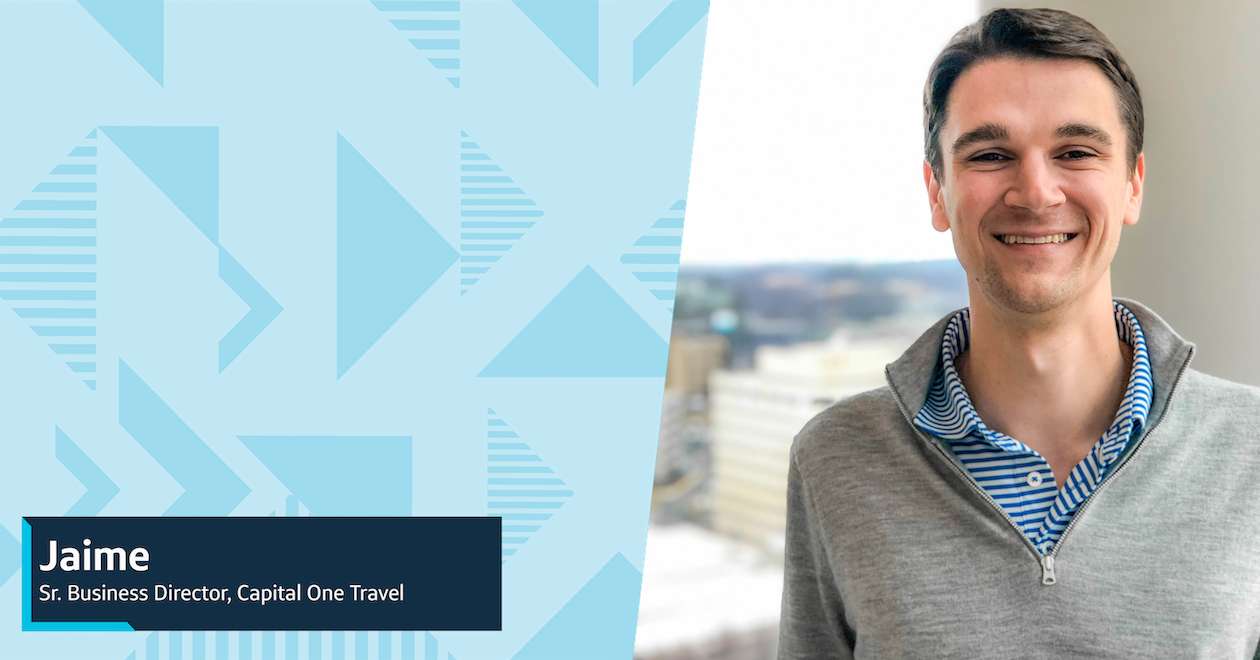 Meeting customer needs while creating new solutions earned Capital One the number two spot on Fast Company's 10 Most Innovative Travel and Hospitality companies. For Jamie, the accolades are a reminder of how far they've come.
"I'm very proud to look back at where we were four years ago and to see how much we've accomplished," Jamie said. "To get to build something with other really smart people who are equally excited, ambitious and talented has been a really fun and rewarding experience."
The freedom that Capital One Travel has offered customers inspires Sarah in her own work as she continues to improve Capital One Travel products and create something new with her team. They also use the product themselves to book time away, visiting places like New Zealand, Grenada, Colombia, England and more.
"I love that we are helping our customers to go out and see new cultures in new places and see their loved ones in a way that's cost-effective, time-effective and fits into their lives," Sarah said. "As someone who loves traveling, I think one of the most important things you can do is to help someone get out there. It's very satisfying, and I'm excited to continue doing this important work with Capital One."
Copyright © 2023
Opinions are those of the individual author. Statements are deemed accurate at the time of posting. Unless otherwise noted, Capital One is not affiliated with, or endorsed by, any company mentioned. All trademarks and intellectual property used or displayed are the property of their respective owners.