What factors make you successful in a Customer Care role?
What does success in your job look like to you? As a Capital One Customer Care associate, you could have so many unique opportunities available for growth and success, however you envision it. In our supportive culture, teams and leaders offer each other flexibility and empathy. You have access to all sorts of opportunities, from mentorship and training to open discussions about career growth and development. For Ashley, a Fraud Coordinator, that support and encouragement to grow propelled her to achieve her career goals. She shared, "I knew the sky's the limit as far as my career." We asked some of our Customer Care associates how they found success and propelled their career growth at Capital One, and wanted to share their insights with you.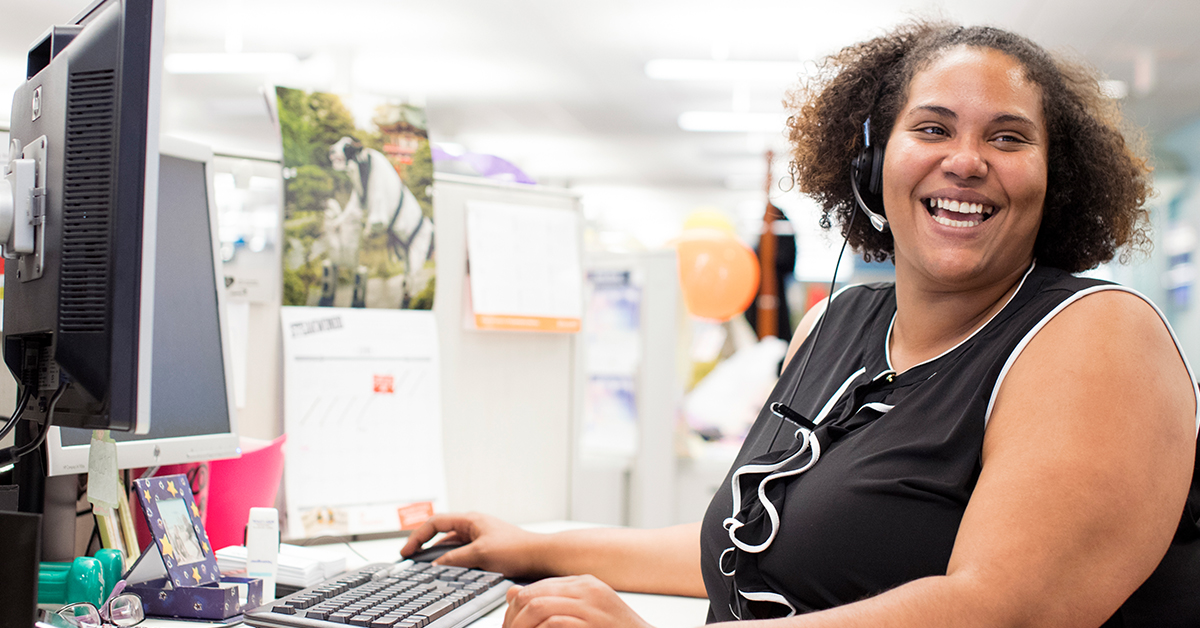 Investing in your development with tools and time
The first important factor in success is a supportive culture, one that truly invests in your growth and development. Beyond the impactful work and meaningful customer interactions you're doing each and every day, your success is also about continually growing yourself and your knowledge. Danny, a Cafe Ambassador, really appreciates the monthly chats with his Cafe Coach about his goals and how he can reach them. He shared "rather than it being a conversation of how many accounts were opened, or numbers based things, it's actually a conversation based on what I'm doing to develop myself. I think that is what drives all of the ambassadors to continue to better themselves." It's a personal conversation and focused on you and how your team and company can help you grow.
Beyond these development conversations, you'll also be able to build a network of connections and have access to tools to map your road to success. Karl, a Principal Advocacy Coordinator, explains, "Capital One gives you all different types of tools to be successful. You can go to the Career Development Center, acquire a coach. You can definitely acquire a mentor, or even simply network." The Career Development Center can help you with anything from mentoring and career coaching to setting you up with virtual training or in-person seminars.
You can also seek out a mentor from someone within the company, who can share their experiences and skills to help you grow and learn. All associates are encouraged to build time into their schedules to make and nurture these connections. Karl adds, "there's an old saying that if you don't know what's around you, you don't know what's in front of you. Networking is a lifeline to being successful here at Capital One." Whether it's a meet and greet or career counseling, personal growth and development are a key part of the culture here. You'll find that teamwork and collaboration help us tackle challenges and find new and better solutions to continue making our customers' experiences great every day.
Excitement to solve new challenges
Another key component to success in Customer Care roles is energy and excitement for problem-solving. Jake, Digital Operations Lead, links his success to his devotion and energy for doing his best work every day. He shared, "there has to be support from the culture, and there has to be support from your key leaders, but really showing up every day, putting your best foot forward and an extreme work ethic" are the traits he feels help him do his best work. As a Customer Care associate, you're the first person a Capital One customer speaks to and you may be faced with a variety of situations every day. Keeping your energy and drive to do right by the customer will help you make a strong impact in a Customer Care role.
Jake also mentions the importance of "investing in being coachable." Just as leaders are invested in your personal development, they're also looking for opportunities to help you grow through providing feedback. This feedback is meant to help you become more skilled and efficient in new areas you may not recognize. Jake explains, "I'm constantly seeking feedback and implementing the feedback that I'm given to make sure that I'm the sharpest individual for a position." It could be a new way to approach a certain situation customers are facing or positive reinforcement for a task you handled efficiently. This adaptability and willingness to continually grow helps keep learning going and encourages you to keep an eye toward the future.
Teamwork and collaboration help everyone succeed
Karl boils his success down to 5 key areas that have encouraged his growth in his Capital One career over the past 10 years. He explains, "first thing would be peers. Number two would be leadership. Three would be professionalism. Four would be a great attitude, and five would be networking. I'd have to say that I've worked with some amazing people." All five of these factors add up to one thing: People are at the heart of the exciting things we do at Capital One. A positive attitude and willingness to help your teammates are what make every day great. Professionalism and a positive attitude help you tackle customer concerns with a smile and earnest willingness to find a solution. It'll also help you work with teammates to develop innovative ideas and new processes to streamline or simplify everyday tasks. You could be one spark of inspiration away from making a positive impact on millions of customers.
Collaboration and teamwork are the fuel for some of the most exciting projects at Capital One. From making the customer experience even easier and more enjoyable to working together to identify growth opportunities, you have a real chance to make your mark and grow a career that defines success for you. As these associates have shared, your opportunities and the encouragement to pursue them are here waiting for you.
Though most of our Capital One team is working from home right now, we're still looking for excited and passionate new people to join our team. Be sure to check out the open Customer Advocates roles to find your exciting career.
Copyright © 2023 Opinions are those of the individual author. Statements are deemed accurate at the time of posting. Unless otherwise noted, Capital One is not affiliated with, or endorsed by, any company mentioned. All trademarks and intellectual property used or displayed are the property of their respective owners.