The intersection of mindfulness and happiness at work
By Sky F.
Sky is a Scrum Lead for 3 Tech development teams at Capital One.
How do you know that you're on the right path? In life, and in work, it's easy to get caught up in day-to-day problems…rushing to meetings, answering emails, shuffling the kids from place to place, getting dinner on the table. How do you slow down and take the time to make sure that you aren't missing the forest for the trees? Could happiness really be as simple as making space for moments of quiet gratitude for the gifts you're given daily?
As a mindfulness practitioner and an Agile professional, I have the privilege of cultivating spaces for myself, my team and others at Capital One to make these moments happen. My story of discovering the place where mindfulness and happiness at work intersect begins in an unlikely place—a banking call center! It's led to opportunities and a career that not only allows me to excel in my daily work, but to expand my personal passion—helping others cultivate a happier life through mindfulness.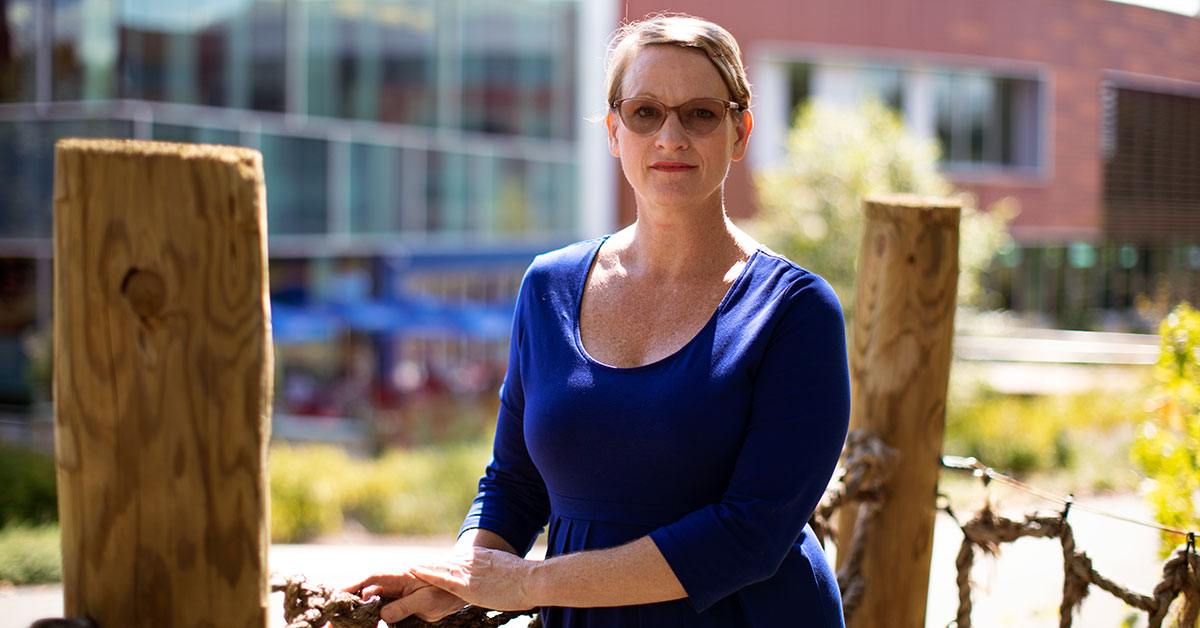 My journey to mindfulness
Before becoming an Agile professional, I had the rare opportunity to study mindfulness as a full-time resident of a Buddhist monastery in rural America. In order to host meditation retreats at our center, we chopped onions, washed dishes, scrubbed vegetables, planted gardens, mopped floors, sewed cushions and performed a myriad of tasks necessary to support the operations of an intentional community. The community moved about as one entity, with one shared intention, the cultivation of self-awareness, of which mindfulness is a key component. That's how I learned the value of mindfulness and being my authentic, imperfect and happy self.
I learned to use the vast expanse of space—21 acres of forest, meadow and walking trails to ground myself during times of stress. During silent retreats (sometimes as long as 10 days), we would work the land, focusing on our assigned tasks and observing mental habit patterns. As I became more aware of my own internal weather patterns, I learned to seek the counsel of my teachers when I didn't know how to proceed, to ask questions, receive guidance and grow in wisdom. I was challenged to turn towards areas of opportunity instead of pretending they did not exist. I discovered how to recognize when negative thoughts and actions were impacting myself and others, and what to do about it. And while a mindfulness practice might seem like a strange place to begin a journey into the corporate world, it was this practice of self-awareness and ability to reflect on how to calmly approach problems that led me to my current career.
Bringing mindfulness to the corporate world
While my time in the monastery was incredibly impactful, life eventually led me back into the world. In order to care for my elderly mother, I found myself looking for a job in my hometown of Columbus, Georgia. I quickly found a part-time position as a Collections Agent—a job I now know is ripe with opportunity to practice patience and calm. In the call center environment, there are plenty of opportunities to use compassion and intentional direct communication. For me, it was also an opportunity to bring mindfulness and happiness to a somewhat challenging work environment. I was able to demonstrate my own particular brand of calm understanding and show that strength through kindness has lasting benefits.
After almost a year in the call center, I had the opportunity to transition off the phones to take a position as an Instructional Designer, creating digital content for training call center agents. I once again applied the practice of mindfulness to my work and quickly became known as a go-to person for calm perspective in the midst of a rapid change. The following year saw yet another career progression, this time into the world of project management.
By then, I was facilitating all of the necessary meetings with new clients, discerning goals and objectives, desired outcomes and target metrics. Through it all, I continued to use the tools of mindful listening, intentional speech and radical transparency. Additionally, I was learning that showing up as my authentic self actually put people at ease and helped them to be their authentic selves as well. This did wonders for improving communication and our ability to deliver!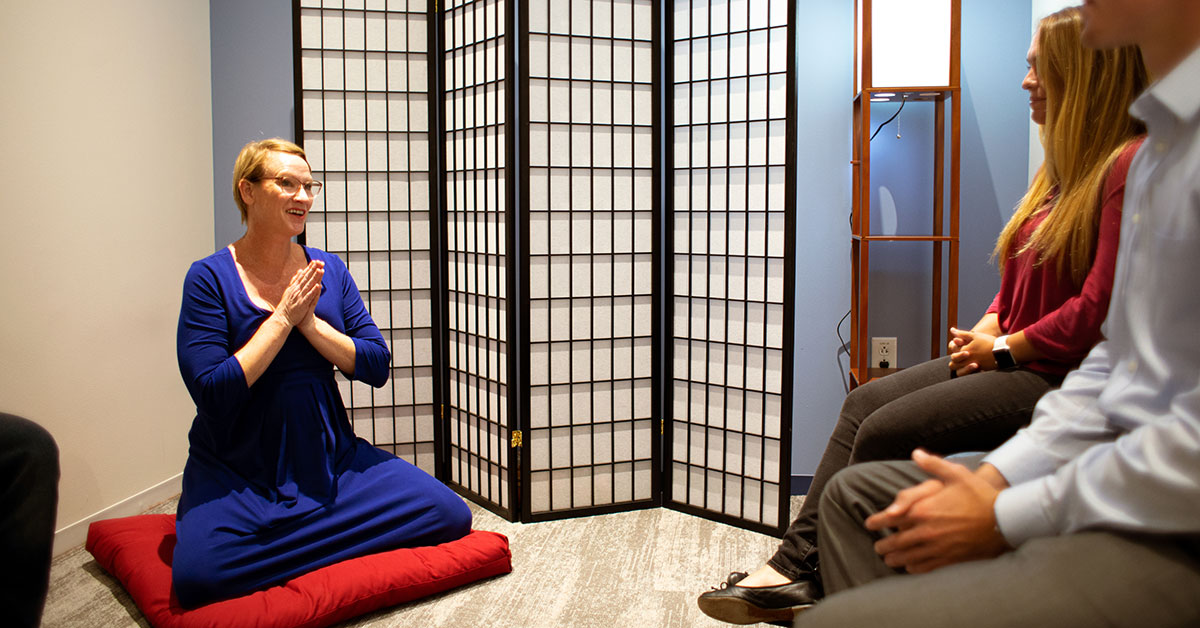 The Agile and mindfulness connection
In the fall of 2014, my career evolved again as I accepted the role of Scrum Lead for Tech development teams. In this role, I assisted teams with practicing the three pillars of Scrum; Inspection, Adaptation and Transparency. As Agilists, we review the work we've completed, compare it to our target goals and then refine our code, behaviors, etc., to make improvements and reach our goals. All of this relies on an agreement between team members to be transparent and supportive of small changes in our work and in our working agreements with each other. In other words, Agile work, even in the Tech world, is a practice of self-reflection, self-awareness and intention—the very things I'd spent my time cultivating years before!
In the role of a Scrum Lead at Capital One, I've found a unique way to teach mindfulness as a compelling and vital element of success for my team. For me, it is the perfect intersection of personal and professional passion. It allows me to share the benefits of how mindfulness creates space for contentment and happiness at work and in life.
Being a Scrum Lead and mindfulness teacher at Capital One
In addition to my work as a Scrum Lead, I also teach mindfulness classes to colleagues across the entire company. Mindfulness@Work is an introductory course that teaches easy techniques to reduce stress and increase happiness. I do this by demonstrating skills and giving attendees tools to raise awareness of the present moment. Through a combination of play, introspection and discussion, I highlight the benefits of mindfulness and create ways to experience it in everyday, ordinary work life.
What started as a personal passion project has now taken off—what was once a small class in Richmond has expanded to other offices. I've had the opportunity to take my teaching to our offices in Plano and Chesapeake, as an adjunct facilitator, all while still supporting my 3 tech teams as a Scrum Lead.
Additionally, there are many small, surprising ways that I've felt supported in finding space for mindfulness and happiness at work. Our Richmond campus has unique spaces—from the treehouse, to the walking paths around the lake, to the garden patch, to the open work spaces and indoor private alcoves—these spaces invite and inspire collaboration. The use of light, high ceilings and intentional design encourages creativity and contemplation.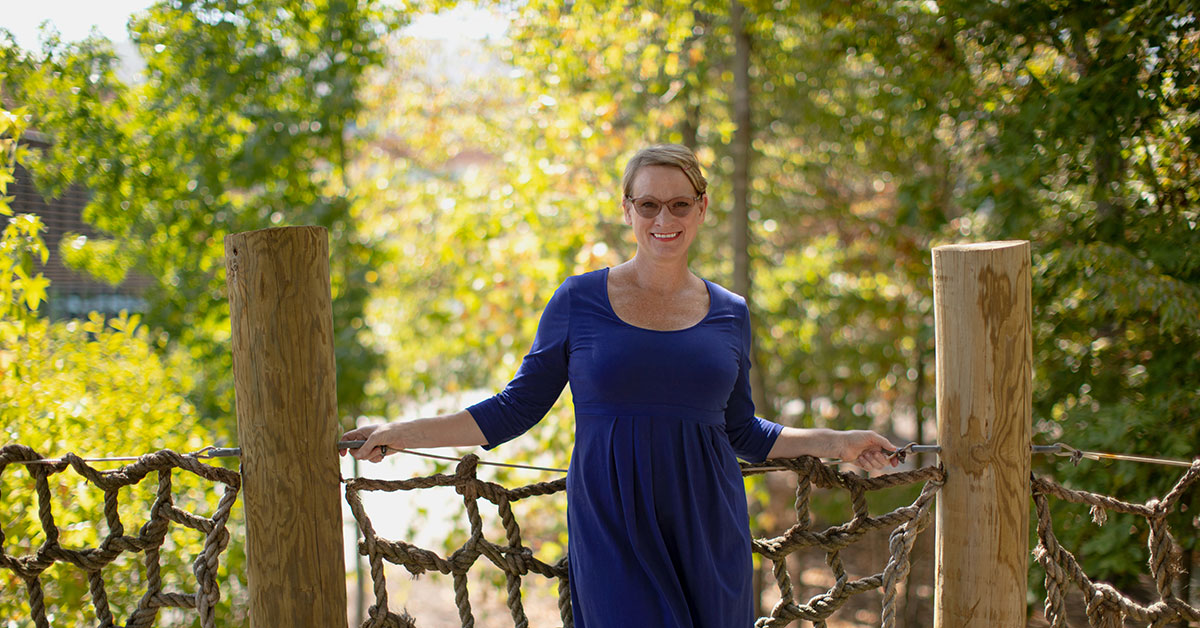 What's next for mindfulness and happiness?
When I meet with my leadership team, I'm able to speak openly about my interests and I receive tangible support to follow my passion. With their help, I've been able to share how others in the Tech space can use mindfulness practices to both improve their work and their lives, through speaking at events like Women in Tech and an internal Scrum conference. All of this helps me create a happy and satisfying career for both myself and others. Where will this all lead? I'm not entirely sure! But with the right leadership, mindset and team support, I'm optimistic about what my next career move might be. Being an associate at Capital One is an opportunity not just to cultivate a career, but an invitation to inspect, adapt and transform your life. I'm thrilled to be valued for the unique skills I bring to work every day and love that I get to share those skills with others.
Copyright © 2023 Opinions are those of the individual author. Statements are deemed accurate at the time of posting. Unless otherwise noted, Capital One is not affiliated with, or endorsed by, any company mentioned. All trademarks and intellectual property used or displayed are the property of their respective owners.