One bedroom, two careers: How to work from home and stay productive when space is limited
By Miranda Turner
I'm no stranger to working from home. In almost every position I've held, occasionally working from home has been practical, if not necessary. When we learned we'd be working remotely, I will admit that some small part of me was excited to try working from home for long stretches of time. As a Scrum Lead, it is my job to remove impediments, facilitate discussions and promote inter-team collaboration. So, it would be both interesting and challenging to have no face-to-face interaction with any of my team members, particularly when trying to coordinate large events like multi-team planning sessions. The experience would definitely help me grow as a professional. Additionally, if we're being quite honest, as an introvert, I was intrigued by the prospect of working remotely.
Working from home with a dog can be a bit… hairy
It turns out that honing my professional flexibility would be the least of my challenges. Newly married, living in a one-bedroom apartment with my husband, Ian, and my dog, Roxy, I would soon get a taste of the juggling act so many of my colleagues seem to sustain every day.
At first, my husband wasn't working at home. Given the nature of his work as a security engineer, it was really better if he could be on campus with a handful of other engineers to keep pushing forward on their projects, so it was just me and the dog.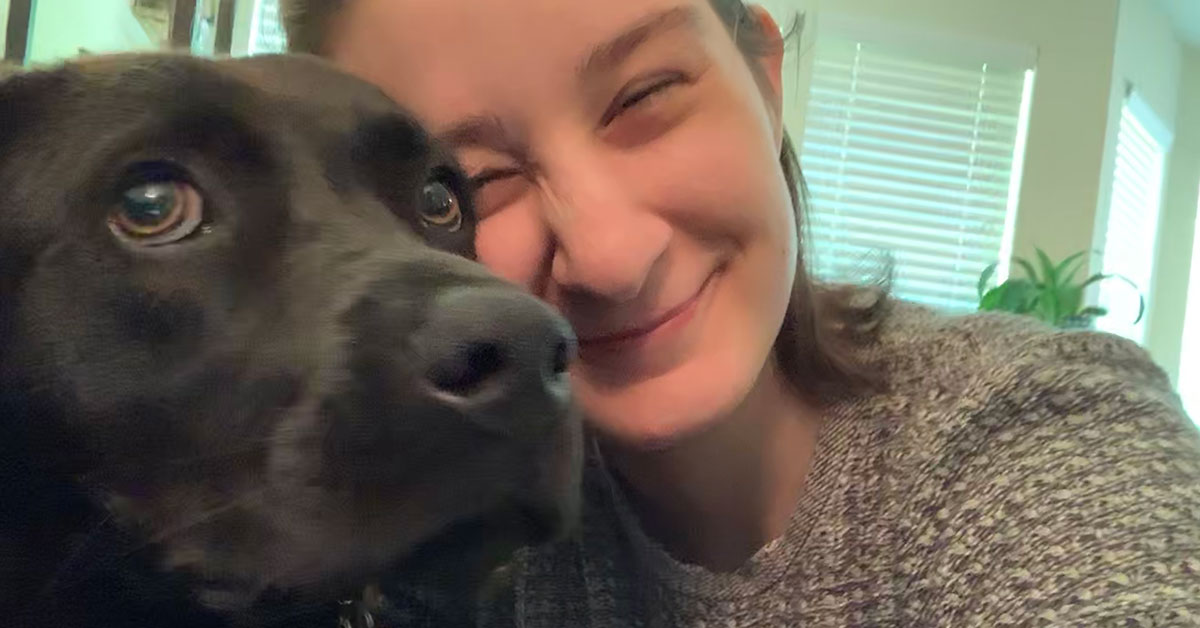 It turns out, dogs don't like sitting still all day. Even after taking my not-even-two-year-old black lab for longer walks before morning meetings, during lunch and directly after work, she was still restless and stir-crazy. She began pacing back and forth in the living room, jumping on my lap during meetings (she's 50 pounds) and tearing through her toys with more systematic diligence than even I thought she was capable of. You can't explain to a dog that she can't go to parks or play with other dogs because of a global pandemic or social distancing. I imagine it's even more difficult with children, but Roxy is a force unto herself.
However, my team never gets frustrated or unpleasant about this. In fact, I've seen more dogs and children now than I ever have before, which is kind of amazing. Instead of snapping at each other, we accept and embrace each other's situations and frequently swap stories. I know that I am very proud and grateful to be working with such an amazing team of positive and supportive individuals.
Sheltered at home and making our space work
As we all know, COVID-19 quickly became more serious. Consequently, my husband was given the direction to work from home. I was grateful for this! I would now have help corralling Roxy—plus someone to eat lunch with. Maybe I'd feel less insane and stop calling my mom three times a day. It wasn't that simple, though.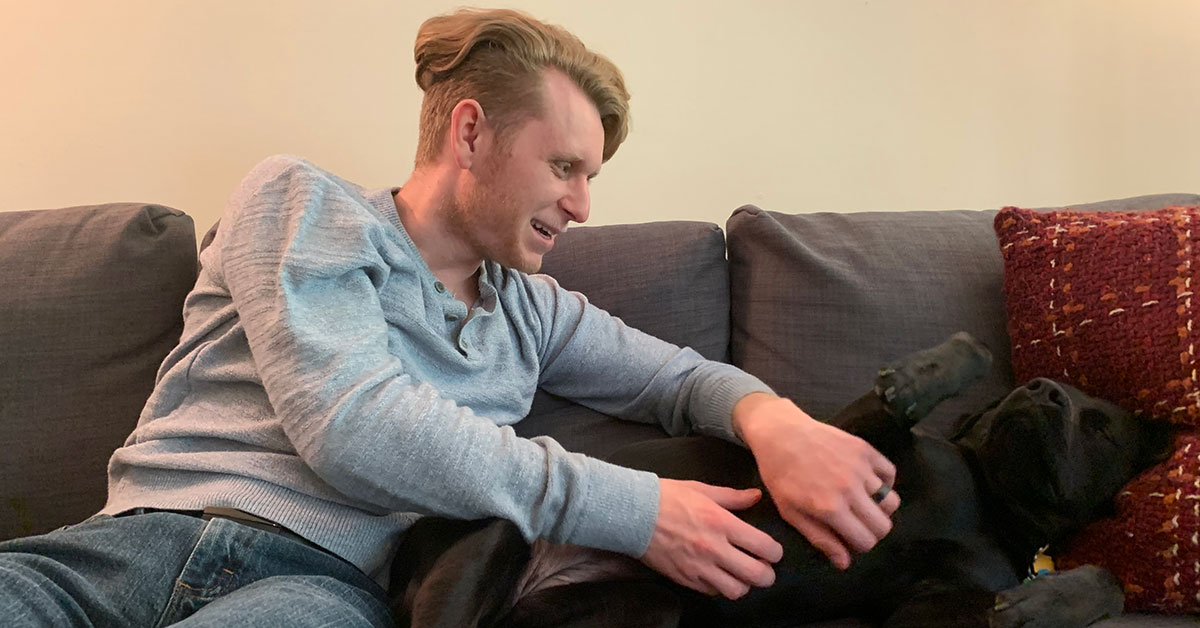 We only have one desk, but we are lucky enough to at least have a 1 bedroom unit, so we each have our own "office." Ian works at the desk in our bedroom. He has enough space for all three of his laptops, plus his monitors. We've tried to build an environment of focus there, but it's difficult since it's also the same room that we sleep in (obviously).
I work in the main living area, which is equal parts kitchen, breakfast nook and sitting room. Sitting in a dining room chair all day isn't exactly comfortable, so sometimes I curl up with my laptop in our little armchair. When I'm in the office, I tend to bounce from meeting room to meeting room all day, so it's nice to be able to work in two different "places," even if those places are only 10 feet apart.
However, lacking a proper desk chair has not been great on my back or wrists. It helps me to take time to stretch every day, to take breaks by looking away from my screens and walking around a bit and to pay attention to my posture while I'm working. I also bought a mouse pad with a wrist-rest, which was a small investment that's paid off several times over. These aren't perfect solutions, but I try to remind myself that this is a temporary situation, and I work for a company that supports me in taking the time I need to invest in my health.
Unexpected noises happen… especially during meetings
As I am not an engineer, my work is less focus-heavy and more social-heavy, so I spend the majority of my working days on Zoom. This can definitely be tough, since meeting fatigue is very real, but also because we live next to a fire station, a police station, a hospital, the metro and a highway—there is a lot of noise outside before even considering what is happening in or around my individual apartment.
Being in a small apartment, the kitchen and dining room are very snug, so if my husband is heating up his lunch or grabbing a cup of coffee, it makes a lot of extra noise in my "office." Not much to be done about it. My dog also likes to bark when I'm talking animatedly. In meetings where I am a listener or attendee, she's quiet as a mouse and perfectly behaved, but when I'm facilitating, she suddenly becomes very interested in what I am doing and wants to play. I guess that makes sense, but it's still inconvenient. I haven't really found a way to combat this, other than petting her constantly while I'm talking, thus looking like a nefarious fictional character. Otherwise, I try to keep myself on "mute" during her outbursts and rely on my team's good-natured patience when she does bark or whine over the mic.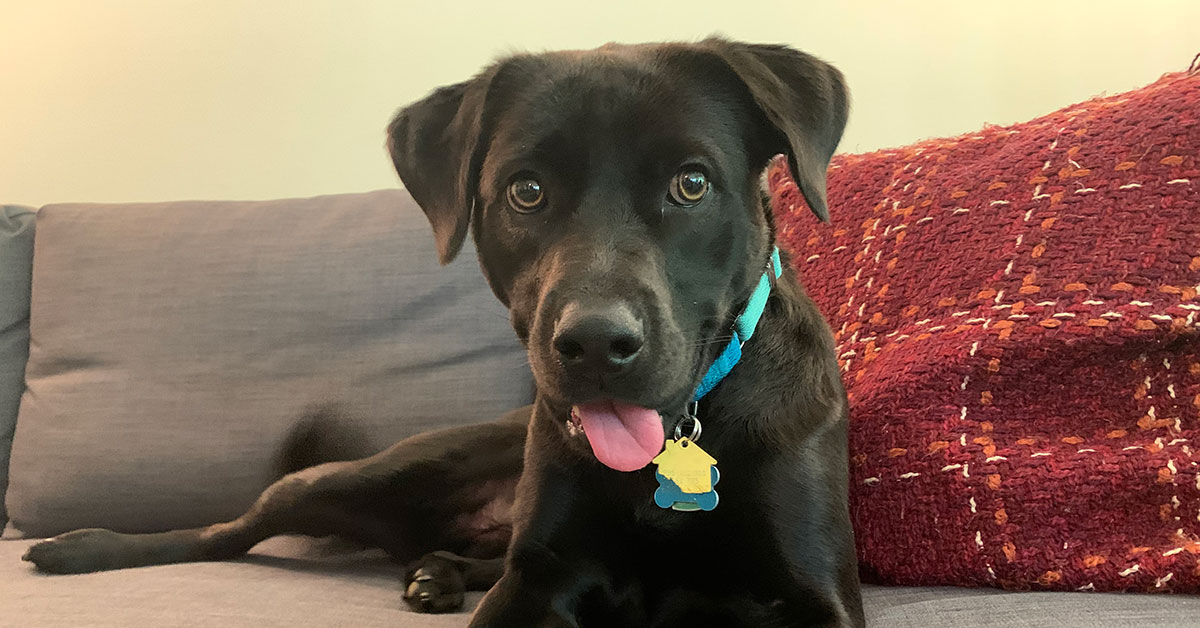 Creating our own wins to feel accomplished each day
Nonetheless, it is the human spirit to persevere, so we think of small ways to win every day. For my little family, "winning" looks like this:
Creating a Routine
In the morning, my husband and I say goodbye and "leave for work"

—

he closes the door to "his office" and I kick-off my morning meetings. Ian is my best friend, so we need to create space to foster an environment of focus, even if the space is artificial.
At noon, I work out for 20-30 minutes then I walk my dog. Having these checkpoints to tell me when to take a longer break is important to me, since the work day can stretch on and bleed into personal time when working from home.
When speaking to one of my organization's leaders, we spoke about having a "Definition of Done" for the day. Basically asking yourself: "How do I know that I am going to wrap up and put my laptop away for the day?" Once you define your bar, it's easier to let each day end without feeling guilty or burning yourself out.
Staying Healthy (Physically, Mentally)
People, like all living things, need water, sunlight, nutrition and positive external stimuli. It's more important to us than ever to make sure we are exercising each day, getting plenty of sun and eating balanced meals.
Additionally, it's important to take breaks

—

it's easy to wear yourself out or get desk fatigue! It's important for us to get up and stretch, look away from our screens and relax our brains.
Finally, social interaction is scarce! My husband sets up coffee chats with his friends online to keep his weekly routines and I play virtual board games with friends and family as a way to relax and check in with everyone.
Looking Outside Ourselves
These are uncertain times for many. It's important to Ian and myself that we look for ways to help those around us, whether that is donating supplies or checking in on the people we know.
In my opinion, it's important to give people the space they need to grieve, celebrate, experience or do whatever it is they need. I try to make it a point to empathize and to challenge some of my own assumptions about others each day.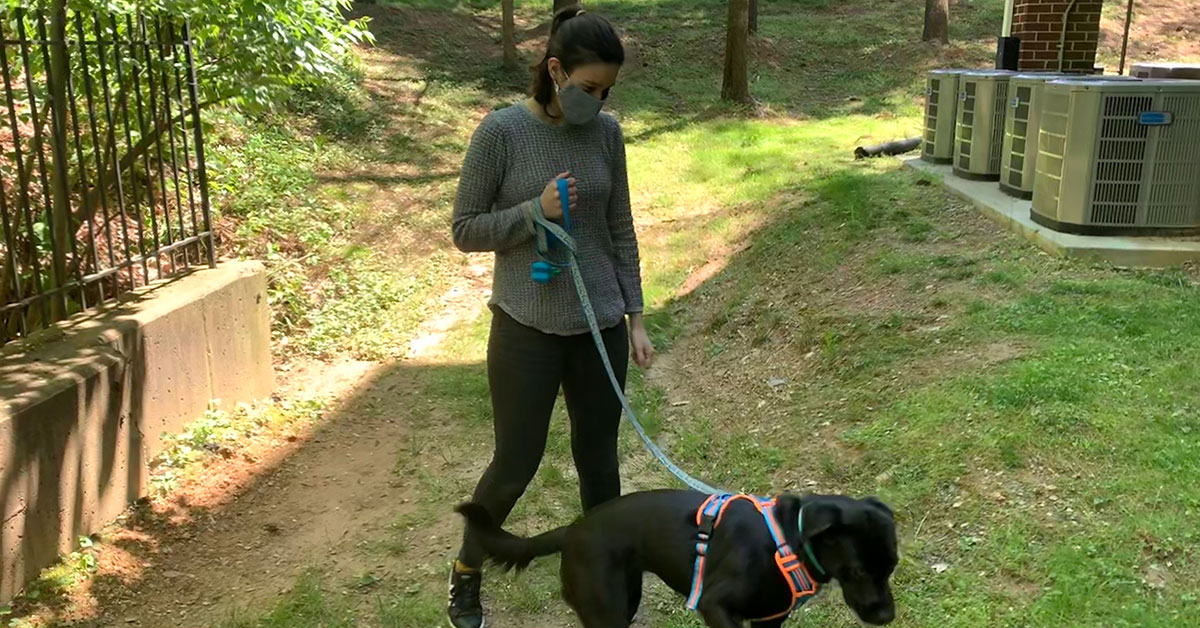 I hate the phrase "new normal," because I never want any of this to feel like my new routine. We are in a very challenging situation, people are sick and our lives are disrupted at an unprecedented scale. Nonetheless, we will rise above it and keep winning, even if it's just a little win each day.
Copyright © 2023
Opinions are those of the individual author. Statements are deemed accurate at the time of posting. Unless otherwise noted, Capital One is not affiliated with, or endorsed by, any company mentioned. All trademarks and intellectual property used or displayed are the property of their respective owners.