Nurturing belonging with Year Up partnership
More than 6 million young adults in the US are impacted by an opportunity divide—they're unable to access the education, job training and resources that help them build stable careers. Hear from 3 associates who share their Capital One internship experiences with Year Up, a free 12-month intensive program for 18-24 year olds without a bachelor's degree, and how it helped them launch their careers.
"When companies like Capital One partner with programs like Year Up, they truly aid in closing the opportunity gaps in the workplace. It also helps to develop amazing, ambitious and diverse talent," shares Jae, a former Year Up intern who is now a Capital One Software Engineer.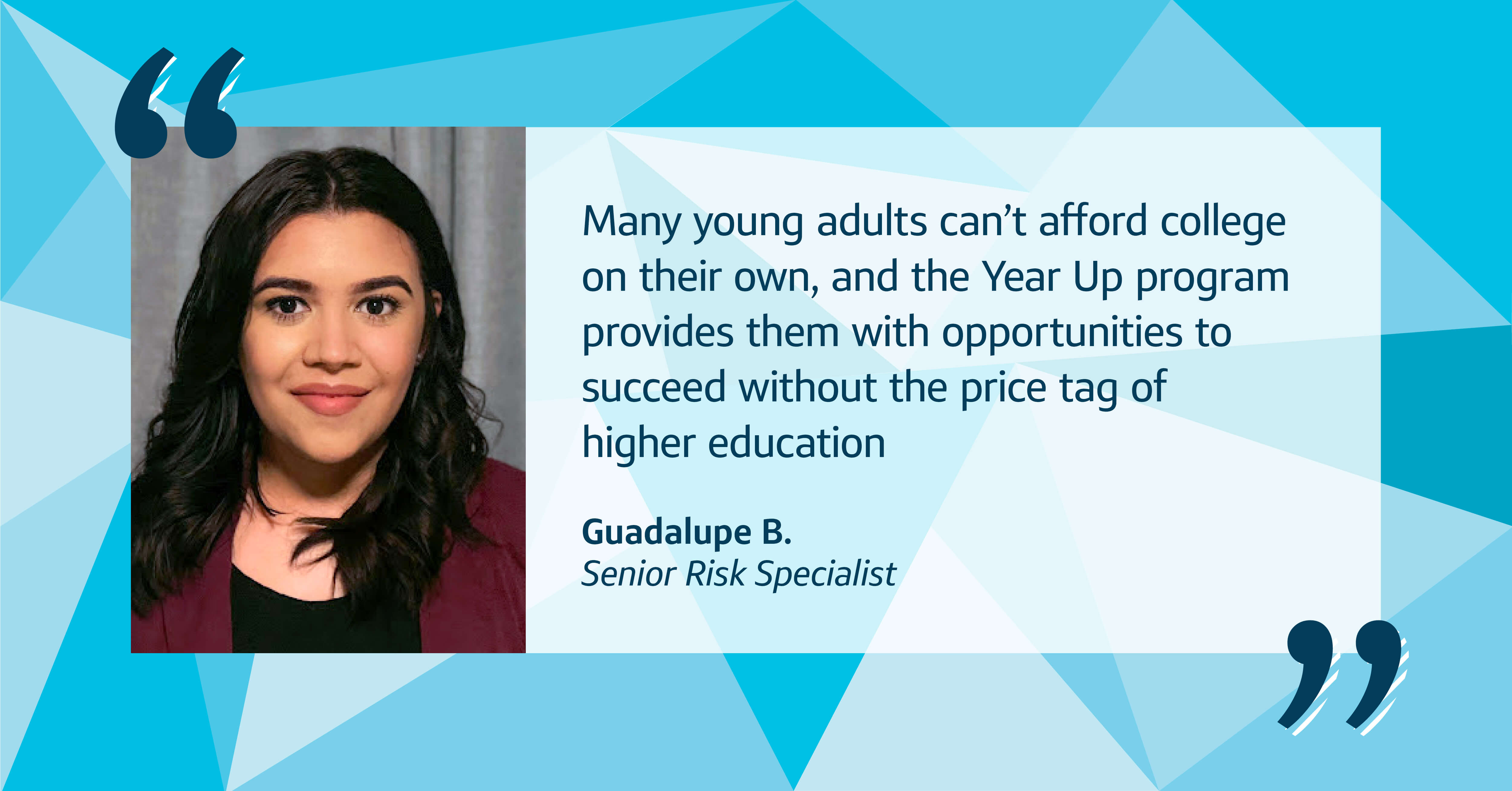 Though there are many talented and driven young adults out there, the financial burden of college is a very real concern and mapping a course for career success without an advanced degree isn't always clear. "Many young adults can't afford college on their own, and the Year Up program provides them with opportunities to succeed without the price tag of higher education," shares Lupe, who completed her Year Up internship at Capital One in 2021 and was hired as a Senior Risk Specialist. Because of the unique opportunities the program provides to focus solely on career development, Lupe gained valuable career experience while simultaneously completing her Bachelor's degree and graduating with honors.
After completing 6 months of skills training with expert instructors, learning about career paths and narrowing in on a focus area, Year Up students are matched with an internship to be completed with a partner company. Whether working in person or virtually, students contribute to real projects and impactful work. D'Angelo, Senior Asset Management Coordinator, recalls "It felt like a different type of internship experience when I came to Capital One, I wasn't grabbing coffee and donuts for the team. I was given tasks that felt like I was directly contributing to the innovative work being driven by Capital One." He was able to partner directly with several teams to drive their work forward and keep them organized. He explained, "I was able to lead a few Agile delivery teams, edit project management dashboards and offer training sessions on Agile methodology. I even helped with the HR Tech newsletter."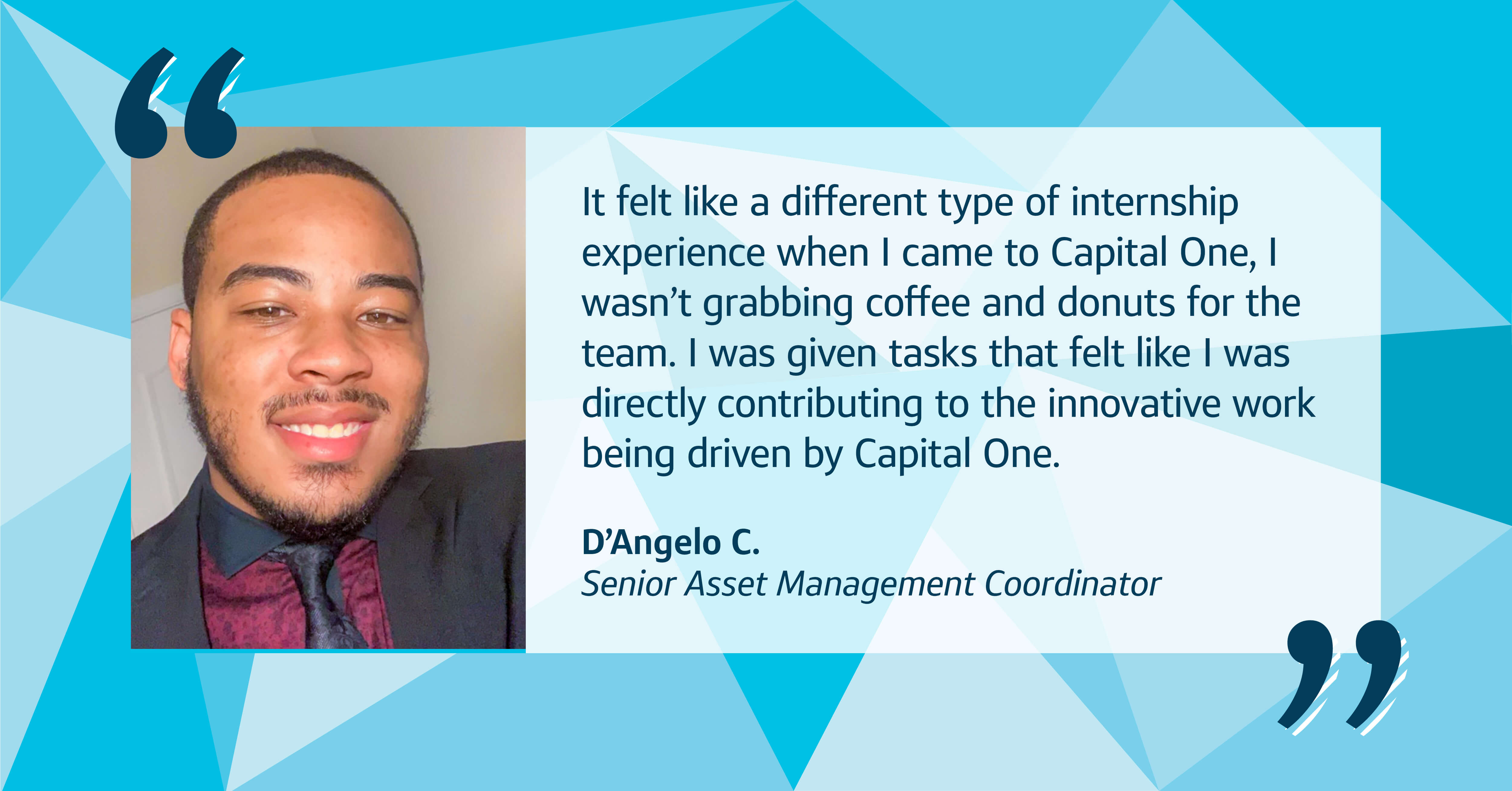 Each year, Capital One hosts about 50 interns in a variety of roles within different lines of business. "The young adults that participate in this program may not have the access or resources at their fingertips that enable them to experience working at a company like Capital One. By partnering with Year Up, Capital One helps bridge that gap, and invest in talented and ambitious people, all while creating a pipeline to welcome this untapped talent," shares Janelle, Year Up Program Manager with Capital One's Workforce Development team.
In her role, Janelle fosters and facilitates the partnership between Year Up and Capital One. She works closely with our interns and shares in their journey, encouraging them along the way. She shares, "Year Up interns will often say, 'I want to get my foot in the door at Capital One,' and I remind them that through this internship, they're already through the door. Now, it's about doing the work and using support from the Workforce Development team, their managers and mentors to help launch their career." Since the partnership began in 2013, a large portion of our interns have been hired on as full-time associates and have been able to grow meaningful careers with Capital One.
During her Quality Assurance internship in 2016, Jae, now a Software Engineer at Capital One, found that she was "really good at breaking things to remake them and finding the bugs or crashes so customers don't have that experience." Because of Jae's experiences and fresh approach to interacting with the technology that the team was building, she was able to uncover bugs and poke holes in potential solutions that other people might have overlooked.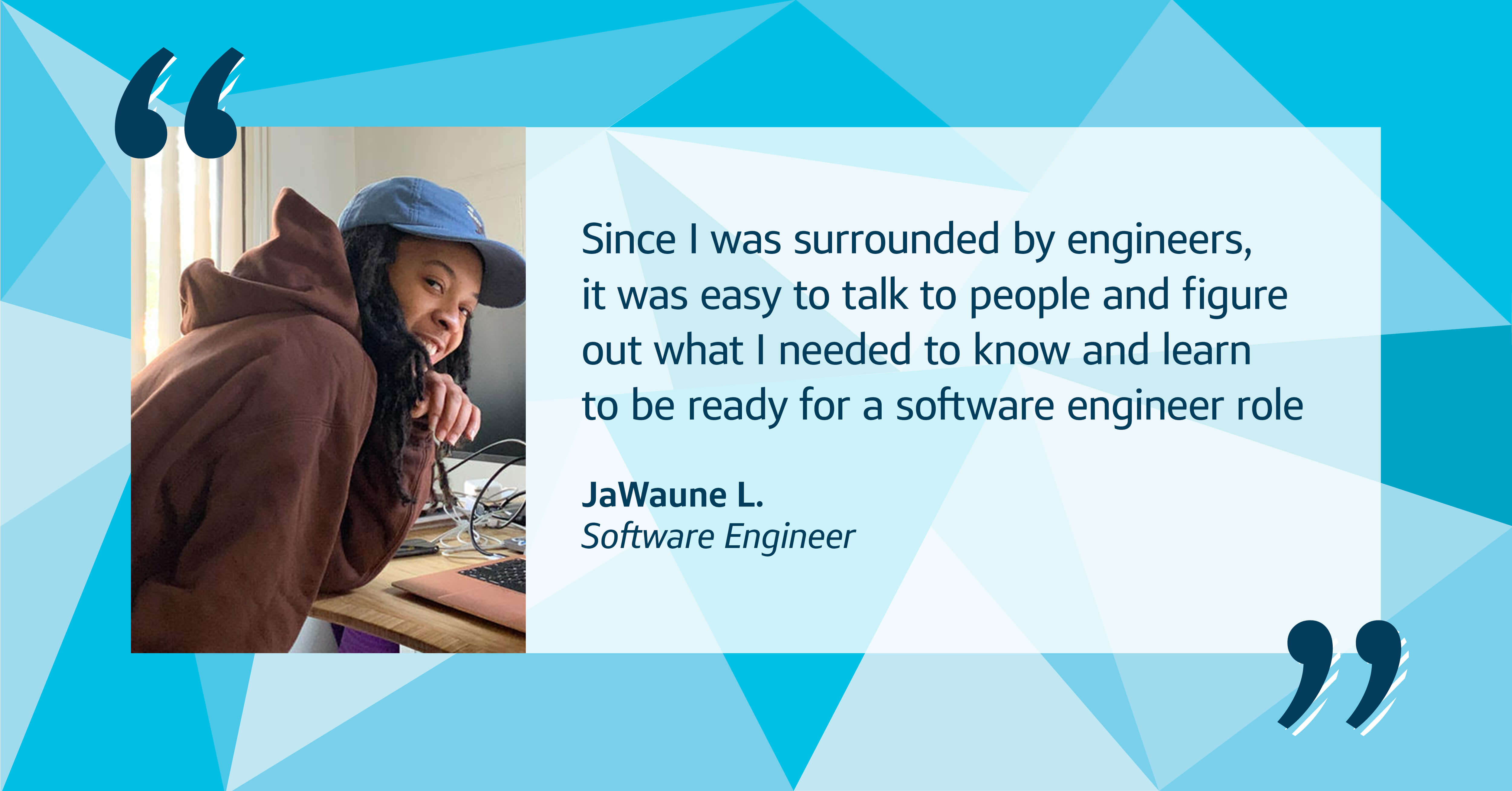 Career growth through connection
In addition to real-world experience, the interns build strong bonds with both their teams and with mentors that they meet during their tenure with Capital One. Lupe's manager encouraged her early on in her internship to get out and meet people. She shared a list of folks Lupe should arrange Meet & Greet chats with to help her connect with a variety of work around the company. Lupe explained, "Many of the projects I was able to work on during my internship came to me through connections I made while networking."
Though Jae's past experience led her to an internship in quality assurance, she knew pretty quickly that her true passion was software engineering. "Since I was surrounded by engineers, it was easy to talk to people and figure out what I needed to know and learn to be ready for a software engineer role," Jae recalls. These insights helped Jae continue growing her knowledge and inspired her to start learning iOS development and building personal projects in her free time, as well as pursuing deeper knowledge in software engineering. Jae was hired at Capital One after her internship and has since built a career in software engineering, helping to enhance our digital experiences for customers.
D'Angelo realized during his Agile delivery internship that he truly wanted to pursue a career in technology. Thanks to some insights from his mentor, Dudley, D'Angelo branched out and tried new experiences while interning. "Even though he was many miles away from me (he was in Chicago at the time and I am based in Maryland), I still felt a huge impact. He encouraged me to try new things, helped me connect with openings and opportunities to get involved across the company and really tried to relate to me," D'Angelo shared. Through their regular check-ins and close connection and trust, D'Angelo is enjoying a role within Capital One's tech organization and helping to keep other associates connected with working, functional technology each day.
After being hired full-time in 2021, he decided to go back to school part-time and earn his bachelor's degree. D'Angelo credits his team and manager for being flexible and understanding of his school needs. He values the way everyone is equal and supported to work in the way that they are most comfortable at Capital One, with the focus truly being on the associate's personal and professional goals and how managers and teams can help them grow.
The Year Up program provides the opportunity for young adults to thrive while being supported and encouraged to tap into their full potential and explore the possibilities in their career. For each one of these Year Up program graduates, the program has a special place in their career journey and they hope to help others connect with this amazing opportunity. Lupe shared, "I remember my family thinking when I applied to join that the Year Up program was 'too good to be true.' Now that I've successfully completed the program and been hired in a role I love, many of my family friends have also applied to Year Up and have been accepted!" For those that don't have equal advancement opportunities, these programs and partnerships can be truly life-changing.
Copyright © 2023 Opinions are those of the individual author. Statements are deemed accurate at the time of posting. Unless otherwise noted, Capital One is not affiliated with, or endorsed by, any company mentioned. All trademarks and intellectual property used or displayed are the property of their respective owners.