Hispanic & Latinx at Capital One: community, connection, career growth
What are some of the ways you've built community and a network at the office? The main objective of our Business Resource Groups (BRGs) at Capital One is to create an inclusive environment where associates can connect with each other, have access to development opportunities, and feel a sense of belonging. In order to achieve this, it takes a dedicated group of associates who give their time to keep the community thriving. HOLA is the Hispanic/ Latinx Business Resource Group at Capital One, whose vision is to "Empower Hispanic & Latinx associates to thrive in and out of Capital One."
Members of HOLA are part of a large contingent of professionals who care deeply about helping each other grow and succeed. Ashley, a Senior Frontline Specialist, shared "HOLA helped me break out of my shell in Capital One through its events and networking opportunities. Thanks to HOLA, I am able to incorporate my passion for writing in my work and connect with others through my communications. So, now my work is no longer just work. It is personal and I love what I do here for both Capital One and HOLA." The community aspect of BRG involvement brings a new level of excitement and connection. It also helps associates branch out and use their skills and talents for a variety of projects outside of their usual scope of work.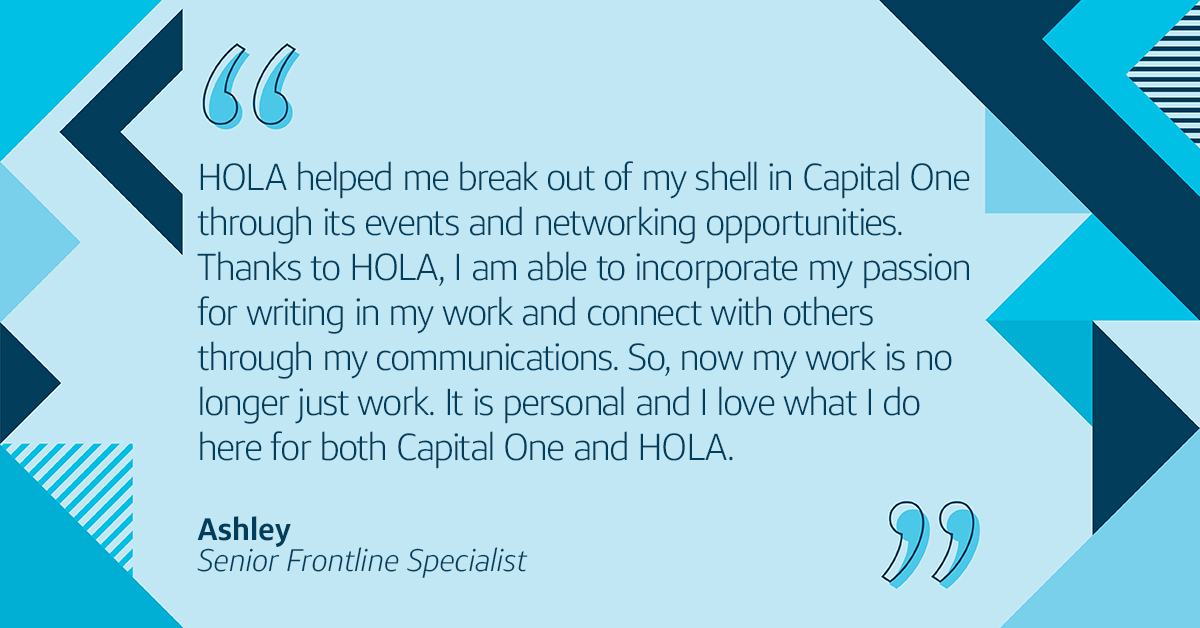 This commitment to investing in the community starts with the leadership of HOLA, who dedicate time to the BRG, in addition to their own day jobs. They focus intently on furthering key areas of HOLA's mission and objectives to help associates thrive and grow in their careers. But there are also work streams and projects under these broader initiatives that are being led by associates at all levels. For Ashley, that means devoting part of her week to HOLA, both in her local chapter and as a national content lead, to assist with communications and coordinating events. By spending a few hours of their week working with HOLA, these associates and leaders are helping thousands of current and future associates to connect and engage with each other, promoting an environment where associats feel seen, heard and have the opportunity to succeed.
Encouraging network building and exploring leadership possibilities
When work transitioned from the office to home due to COVID-19, HOLA responded almost immediately with a virtual weekly Cafecito program, which was kicked-off at the end of March. In these Cafecitos, associates were encouraged to join for "some good company and conversation" and to bring their "favorite mug, fun ZOOM backgrounds, music, kids, and pets." Every week, associates join a Cafecito to hear and engage with Hispanic leaders across Capital One. This has proven to be a great way to build engagement, stay connected, and provide further visibility to leaders and associates across the company. These Cafecitos have also been quite beneficial for keeping the community active and growing, even though everyone is spread out and in their own homes.
HOLA also empowers their members to continue exploring their career potential. In 2020, they sponsored 45 associates to attend Thriving in Leadership training through the Darden School of Business at The University of Virginia. Additionally, they host The Hispanic Leadership Development Program (HLDP) and the Hispanic Leaders Coaching Program (HLCP) for associates looking to grow their leadership skills. The HLDP offers leadership training, executive speakers, networking events and one-on-one mentoring to associates who are at the Principal Associate or Manager level, while the HLCP offers the same opportunities for leaders in Senior Manager or Director level positions.
While these programs are usually held in person on the Richmond and McLean campuses, the 2020 program switched to a virtual format due to COVID-19. To ensure participants feel fully supported in the virtual environment, the program organizers are connecting with participants' managers individually and offering suggestions to help their associates. This helps to make sure they are getting extra support and encouragement in their career development and growth journey. No matter where the program takes place, the goal is still the same. By the end of the program, participants will have developed increased confidence in their leadership abilities and feel empowered to achieve their full potential.
Working together to influence change and create welcoming spaces
Another strong focus for HOLA is supporting other communities and BRGs within Capital One. HOLA associates take part in Proud Together, an initiative led by OutFront, the LGBTQ+ group, to create a safe, welcoming environment for LGBTQ+ associates. They are also supporting VOICES, our Black BRG, in their ongoing work to create space for healing and dialogue about racial injustices. In order to better understand the feelings and conversations that are occurring, the Shared Experience Book Club began reading Ijeoma Oluo's "So You Want to Talk About Race," which provides guidance on how to have clear, constructive and confident conversations about race in the workplace and beyond. HOLA associates care deeply about making Capital One an inclusive and inviting workplace for everyone and they are proud to support the ongoing work of all of Capital One's BRGs.
There is also a deep desire to help and serve our communities throughout HOLA. In the wake of natural disasters, such as the 6.4 magnitude earthquake that struck Puerto Rico in early 2020, HOLA associates quickly gathered resources and information. Information was quickly shared on the internal BRG page about how to best help those affected and providing guidelines on the assistance most needed.
The Dallas-Ft. Worth HOLA chapter also partners closely with a local pre-school program, Mi Escuelita, to volunteer their time and gather donations for their program. The preschool helps spanish-speaking students from low-income families in the Dallas area develop the English language skills to integrate into English speaking Kindergarten classes when they start school, rather than entering an English as a Second Language program.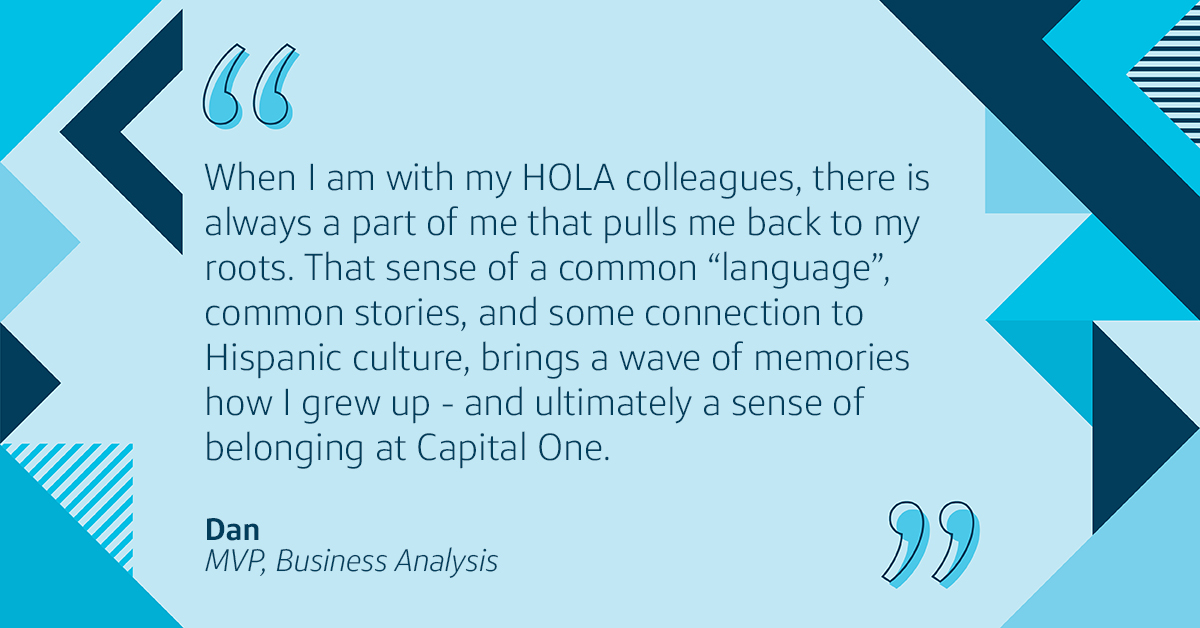 Sharing and celebrating culture
This focus on inclusion and creating space for everyone is at the heart of everything the HOLA BRG does. Throughout the year, they also host a variety of programs and events to engage with associates across the enterprise, such as virtual ZOOMba hosted by the Greater Washington chapter, as well as virtual cooking demonstrations or special cultural food offerings in campus cafes when they were open. Dan, MVP, Business Analysis, shared "when I am with my HOLA colleagues, there is always a part of me that pulls me back to my roots. That sense of a common "language", common stories, and some connection to Hispanic culture, brings a wave of memories how I grew up - and ultimately a sense of belonging at Capital One." Since the end of March when everyone shifted to working from home, the Cafecito chats have been a weekly opportunity to hear from leadership and connect. Many of the leaders sharing their thoughts are also sharing their paths to leadership. This visibility helps other associates envision their own path to career growth.
There are also cultural events hosted throughout the year. For example, in mid-September, HOLA kicks off Hispanic/Latinx Heritage Month celebrations. Though this year is entirely virtual, there is still a full calendar of intriguing and exciting speakers for associates to tune into. Many of the topics are related to current events and are geared toward helping associates process and handle the feelings and situations they may face. There will also be a poetry reading, classes on relationship building, and other celebrations of culture. Many of the regional chapters will also have their own celebrations and events for their area.
The presence of the BRGs like HOLA help Capital One associates to celebrate and honor the differences that make us all unique. With a focus on networking and leadership development, they also help to prepare a diverse group of leaders and encourage more associates to pursue their own potential. The presence of BRGs helps every associate find the comfort and space to be themselves and share their unique experiences and thoughts.
Copyright © 2023 Opinions are those of the individual author. Statements are deemed accurate at the time of posting. Unless otherwise noted, Capital One is not affiliated with, or endorsed by, any company mentioned. All trademarks and intellectual property used or displayed are the property of their respective owners.