Growing sustainable connections
Capital One Green Teams are associate-led groups that help change the world for good through volunteer-led climate change initiatives. Discover how Green Teams champion sustainability and uplift communities—both inside and outside of Capital One.
A decade ago, Matt followed through on a growing interest in sustainability by attending a meeting for the new Green Team at our Plano campus. Little did he know that the team's enthusiasm for community development and shaping an eco-friendly world would spark major changes for him, both personally and professionally.
Capitalizing on our support for internal mobility, Matt switched careers, moving from IT to our Community Impact and Investment team as a market coordinator. At home, he installed solar panels and barrels to collect rainwater. And for the last 10 years, he's helped lead the charge with the Green Teams to assist Capital One and its greater community in adopting sustainable initiatives.
"My Green Team has been so important to me and Capital One because we share practical ways to make our world a better place," Matt said. "We're focusing on the small day-to-day tasks you can do to spur big sustainable changes."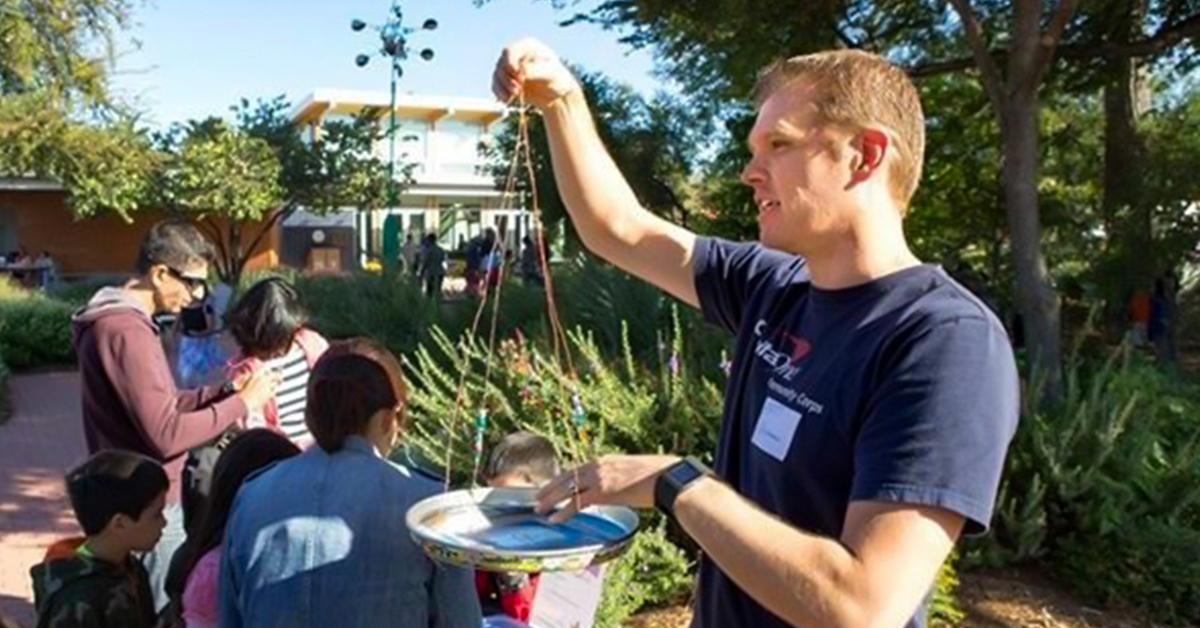 Green work keeps going
Green Teams are one part of Green Solutions, Capital One's department that advises and helps to determine sustainable best practices for the enterprise. The teams are associate-led, made up of volunteers who are passionate about addressing the effects of climate change.
Twenty-four Green Teams exist in Capital One people centers and Cafés around the world, from Las Vegas to Alabang, Philippines to Toronto. Their projects span community awareness and engagement initiatives, like cleaning up the Golden Gate National Parks Conservancy in San Francisco, hosting electric car shows in Plano and opening a community garden at our Richmond campus where associates can plant produce and gather for fresh air. They also set up local farmers' markets, built bird nests and added more recycling and compost bins on our campuses.
Kirsten, a risk manager in Compliance & Ethics Analytics & Innovation, has been a Richmond Green Team member for about five years. After studying Environmental Science in college, Kirsten's passion for an eco-friendly lifestyle came full circle when she joined the Green Team to champion sustainability efforts at the Richmond campus.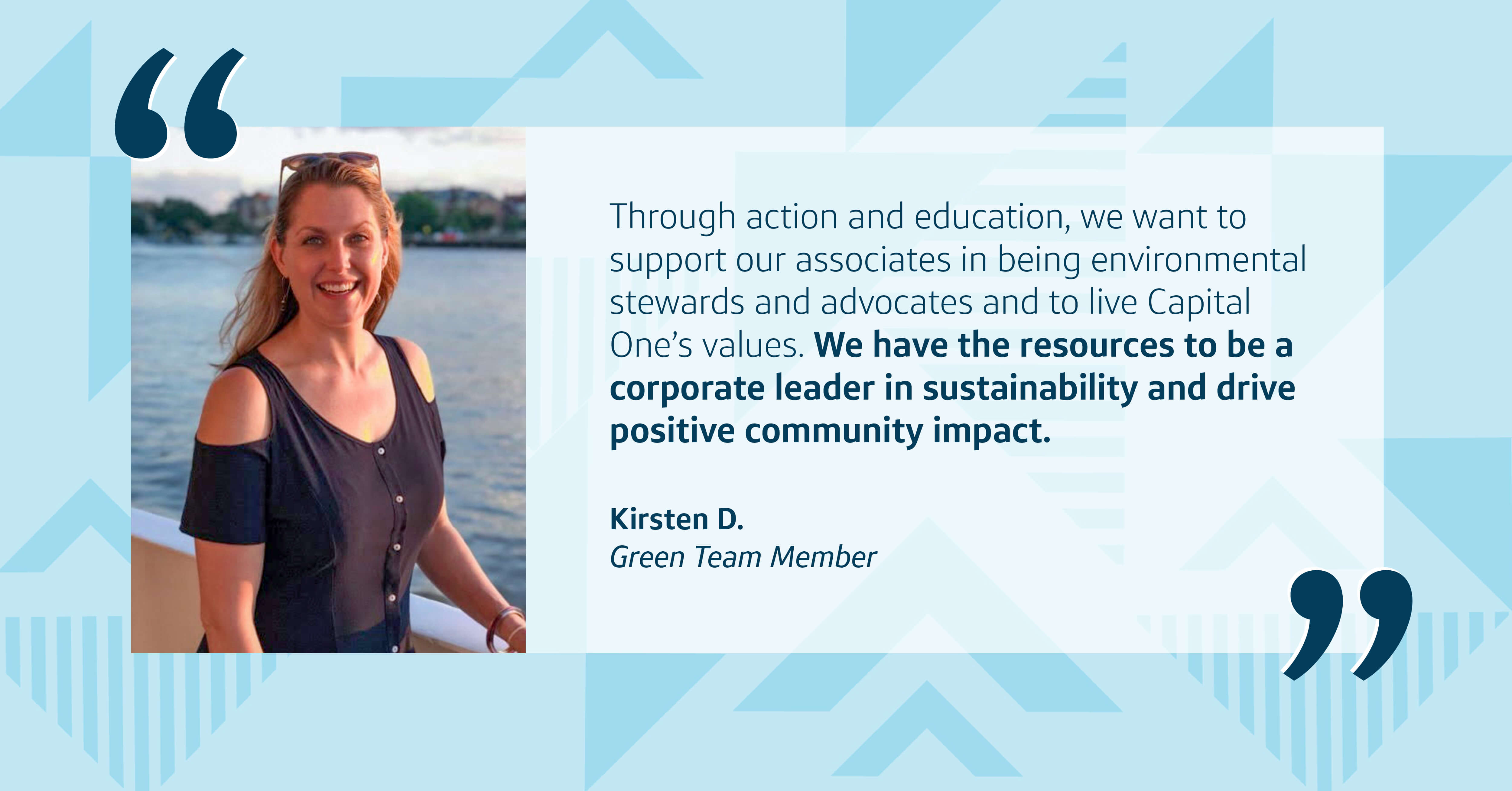 Kirsten partnered with the Community Impact & Investment team to create Green Team volunteer opportunities and pivot to virtual events in the last two years. She helped organize a discussion with Duron Chavis, a food justice advocate of the Resiliency Garden Initiative, a project where he builds raised garden beds for free in underserved neighborhoods. She also scheduled a tour of Shalom Farms, a Richmond nonprofit that ensures access to healthy food, and many other educational programs to give our community partners the virtual stage to share and educate.
"Through action and education, we want to support our associates in being environmental stewards and advocates and to live Capital One's values," Kirsten said. "We have the resources to be a corporate leader in sustainability and drive positive community impact."
Even over the last two years, the Green Teams have diligently stuck to their mission to uplift communities through eco-conscious projects. Green Teams sponsor beehives at local schools, which use the insects' honey in their cafeterias, provide grants for tree-planting events in parks and assist nonprofits in setting up their own sustainability groups.
"Being able to provide easy, tangible ways to make a difference in the environment has helped many associates not only feel like they are doing their part, but also motivate them to look for ways to do more," Matt said. "I love speaking to associates who now look forward to the different ways they can make a difference, rather than just wondering what they could do to make an impact."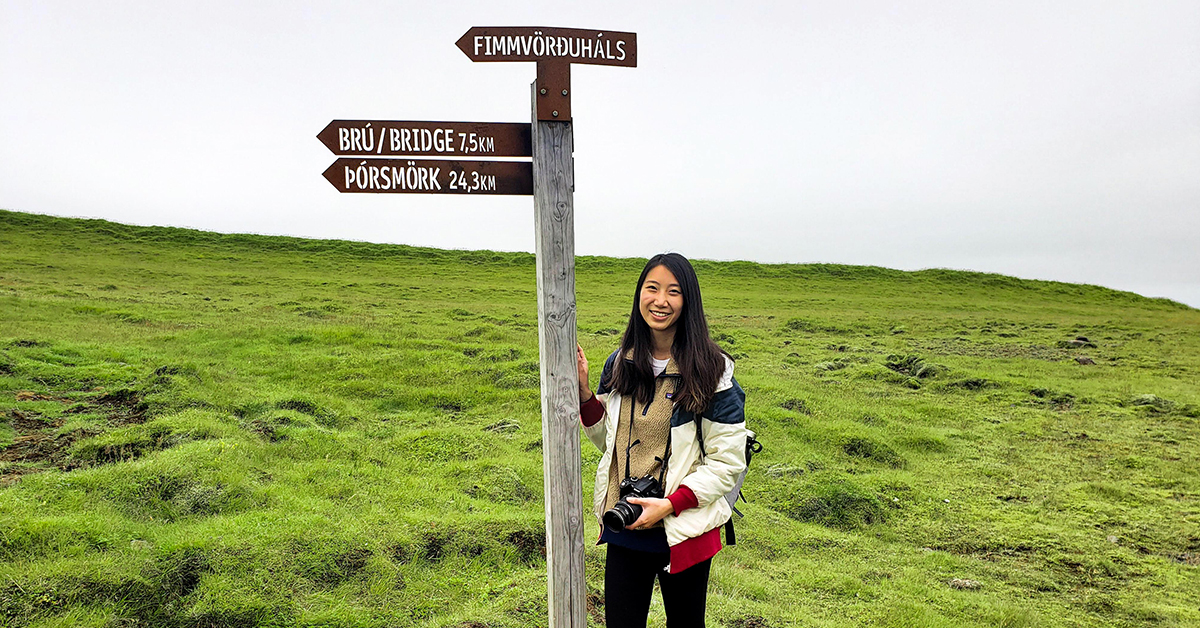 Creating sustainable relationships
The Green Teams' calling also extends to helping our associates live a more environmentally-conscious life.
Green Teams invite speakers to highlight different sustainable projects, teach composting basics and challenge associates to plant pollinators, clean up their neighborhoods and learn about Capital One's sustainability efforts.
"Everybody can help our climate," said Allison, a design researcher for Customer Experience and San Francisco Green Team leader. "No matter what you do for work, there are ways you can bring sustainability into your life."
For Allison, her work with the Green Team comes with the bonus of creating more connections. She's become friends with software engineers out of the San Francisco office who she never would have met without the Green Team. She's also networked with associates in New York to hear more about their passion for green initiatives.
"We're all on this journey together to make sustainable improvements to Capital One and our communities," she said.
Copyright © 2023 Opinions are those of the individual author. Statements are deemed accurate at the time of posting. Unless otherwise noted, Capital One is not affiliated with, or endorsed by, any company mentioned. All trademarks and intellectual property used or displayed are the property of their respective owners.