Creating an immersive celebration of Black History through teamwork
If you walk into certain Capital One Cafés this February, you'll be immersed in a unique visual and auditory experience that engages the senses with soundscapes and visuals. The purpose? To acknowledge and honor the immense contributions of Black people in a new and creative way throughout our retail locations.
A diverse team bringing their passion and expertise
This campaign was imagined, designed and brought to life by a creative group of associates from varying functions and backgrounds. The core project team was made up of Black associates across industrial design, product design, architectural design, copywriters and art directors. VOICES, our Business Resource Group (BRG) for Black associates and allies, was also brought in to make sure the content was hitting the mark.
"I think there's something special about having Black associates bring this campaign to life in a meaningful and hopefully effective way," says Nicole Albertie, Senior Art Director. "I think the campaign has the potential to speak to us as Black Capital One associates. When I think about the campaign title 'Forward: Resilience, Persistence, Progress,' I think it recognizes our painful past and journey while still remaining hopeful for a better tomorrow. Forward isn't always an upward trajectory, there will be peaks and valleys but as long as we (as a company) are on the right side of history, having those hard conversations and taking a stand, we will get there. I'm hopeful associates will see that reflected in this campaign."
Additionally, Tina Johnson-Marcel, Vice President of Design and Creative Director of the campaign shared "After the events of 2020, it was important for Black associates to have an active voice in bringing "Forward" to life. 'Forward' isn't just another way for the company to acknowledge the contributions of Black people across the diaspora, it's also a way to build and nurture a sense of belonging for Black associates at Capital One."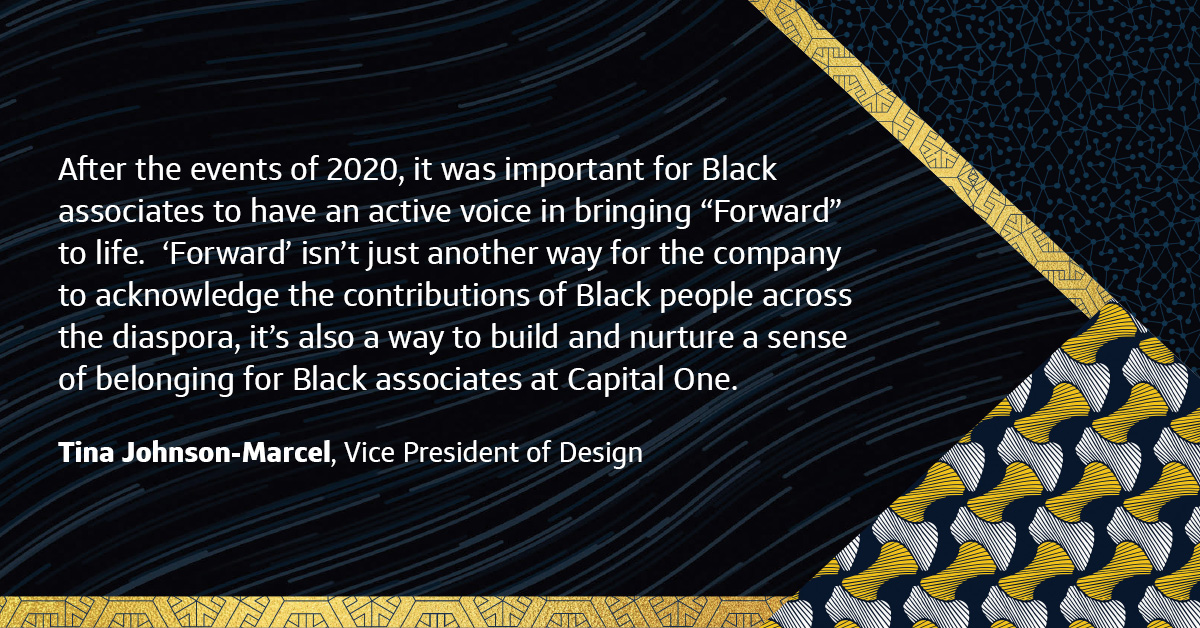 Celebrating diversity at the center
The goal of the campaign is to tell the story of Black contributions and culture and have it feel different and authentic, not a cookie cutter campaign. As a proud supporter of the National Trust's African American Cultural Heritage Action Fund, who is committed to preserving historic sites that speak to African American heritage, the team chose to spotlight Tulsa's Black Wall Street and the 100th anniversary of the race massacre. This offers a way to educate Americans on this crucial yet underreported history and honor the legacy of those African American luminaries who built the thriving epicenter for Black business and culture in the early 1900s.
"It's about celebrating the contributions of the Black community, through culture and the arts, as well as commemorating Black Wall Street," says Nicole. The immersive experience in the cafes celebrates Black culture in a new and commemorative way. The soundscapes include music derived from Black communities, like jazz and hip hop. So much intentionality went into the design, down to the West African patterns seen throughout.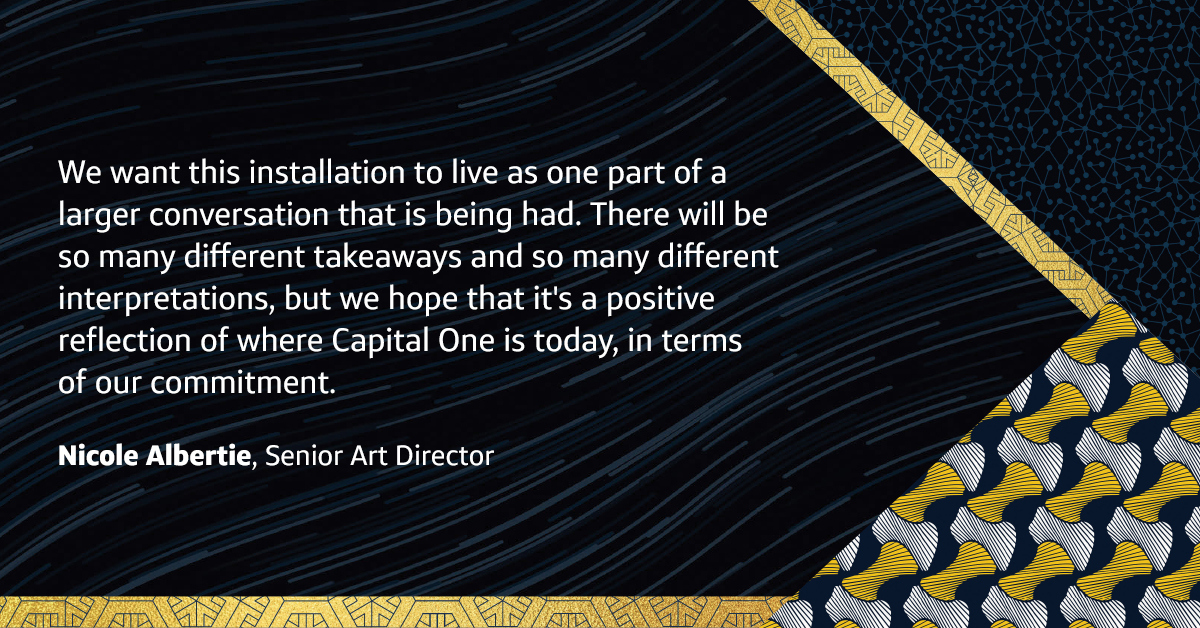 The start of an ongoing dialogue
In short, the creative elements bring it all together so that the campaign feels cohesive and potentially ignites an ongoing conversation on race.
"We're hoping that for the public, it opens up conversations and exploration," says Nicole. "We want this installation to live as one part of a larger conversation that is being had. There will be so many different takeaways and so many different interpretations, but we hope that it's a positive reflection of where Capital One is today, in terms of our commitment."
While diversity, inclusion and belonging has always been central to who we are, investments and commitments only elevate the impact we can make. We are proud that our associates continue to invest their time and skills into helping our communities and advancing social justice initiatives.
Copyright © 2023 Opinions are those of the individual author. Statements are deemed accurate at the time of posting. Unless otherwise noted, Capital One is not affiliated with, or endorsed by, any company mentioned. All trademarks and intellectual property used or displayed are the property of their respective owners.