Blazing the trail for inclusion and innovation in tech: Jennifer's Story
Dr. Jennifer J. Bryant is Director of Associate Experience for the Cyber Team, the Learning and Development Lead for the Blacks in Tech Business Resource Group and leads the Tech Mentoring Program.
The journey to creating an inclusive and welcoming technology career for everyone starts with the work of dedicated individuals who go above and beyond., The Julie A. Elberfeld Tech Diversity, Inclusion and Belonging Awards Trailblazer Award celebrates an associate who has "incorporated differences through unique recruitment, development, and community building needs" for our Tech associates, and has "implemented inclusive practices that embrace diverse perspectives and strengthen a culture of belonging." The 2020 winner, Jennifer, is a Director of Associate Experience for the Cyber Team and champion of an inclusive tech culture and workplace.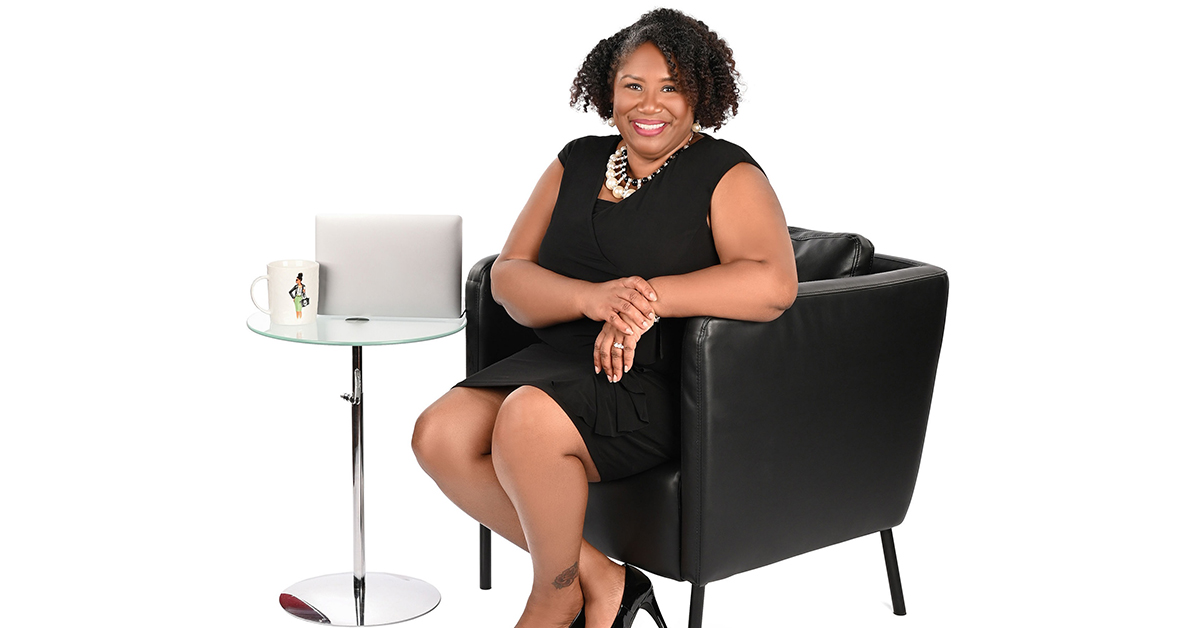 Encouraging others' learning and career growth
Jennifer's passion for diversity, inclusion and belonging has been a key part of her work since she joined Capital One in early 2019. She leads the Development workstream for the Blacks in Tech Business Resource Group, providing associates with opportunities to grow their technical skills and advance their careers. Jennifer also served in a leadership role on the Capital One's COVID-19 Homeschooling Task Force and connected associates and their families with resources to ease the transition to working and learning from home during the pandemic. She led discussions and contributed resources for autism and special-needs care—ensuring resources were inclusive of all students.
Jennifer also co-developed the Cyber Mentoring Program and serves as a leader, pairing associates across different roles and diverse perspectives from all over the organization. Through mentorship and knowledge sharing, associates help each other grow and innovate by bringing new approaches and insights to their work. This speaks to the approach Jennifer takes to her work as a whole, working collaboratively to make sure everyone's voices and experiences are heard. Often, she is a confidant to associates of all levels who need a safe space to talk. She is always willing to engage in the tough conversations and drive learning through coaching.
Ensuring fair growth opportunities and eliminating bias
Much of Jennifer's role involves being a voice for the associates in Cyber. She is committed to ensuring there is an even, equal field for everyone. As the co-chair of the Cyber Diversity, Inclusion and Belonging working group, she communicates important initiatives happening company-wide or within the tech organization and makes sure they are aligned with the unique needs of Cyber associates. She partners with the Cyber Leadership Team on important initiatives like development for People Leaders, ensuring they are prepared with an open, understanding approach to leading associates. She also partners with recruiting to ensure diverse representation in interviewing.
Jen has served as a belonging ambassador during all cycles of Talent and Performance Management in Cyber. She's a vocal advocate for ensuring biases don't encroach on conversations about associate potential and performance. Jennifer also coordinates the recognition programs in Cyber, making sure associates are recognized for their impactful work. She advocates for equitable representation and isn't afraid to ask the tough questions of senior leaders to ensure bias is not impacting the nomination and selection process. She developed and cultivated a monthly Cyber Site Lead program, regularly bringing together leads across geography, focusing on mitigating bias, driving a cohesive team culture and working on solutions that create equity.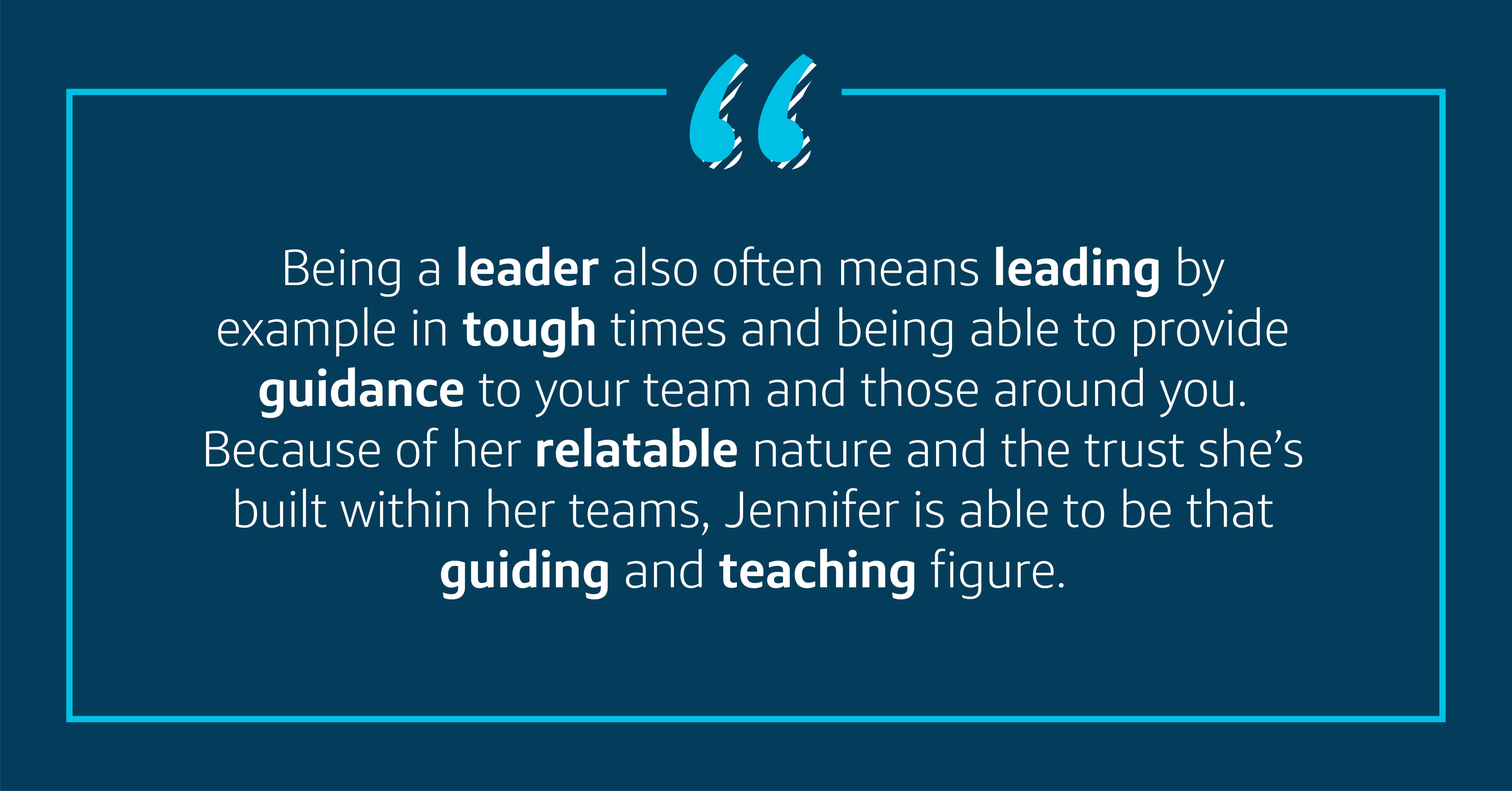 Focused on leading with heart
Being a leader also often means leading by example in tough times and being able to provide guidance to your team and those around you. Because of her relatable nature and the trust she's built within her teams, Jennifer is able to be that guiding teacher. In the immediate aftermath of the killing of George Floyd, despite raw emotions, fatigue, and even anger, she bravely stepped up at a special Cyber meeting to share her feelings. Her vulnerability and willingness to talk about her experience set an example for everyone. Jennifer offered practical suggestions for how to get involved, where to learn more, and where to go for help. Despite her own pain, she selflessly offered her time to educate and collaborate with allies. Although Diversity, Inclusion and Belonging work is complex and often emotional, Jennifer has clearly found joy in educating others so they may be a force multiplier. When she tells her story, her strength and optimism shine through.
Jen is a powerful force, bringing awareness and driving action in diversity, inclusion, and belonging across Capital One. Congratulations, Jen, on winning the inaugural Julie A. Elberfeld Tech Diversity, Inclusion and Belonging Trailblazer Award!
Interested in joining Jen and exploring Tech roles at Capital One? See our open roles.
Copyright © 2023
Opinions are those of the individual author. Statements are deemed accurate at the time of posting. Unless otherwise noted, Capital One is not affiliated with, or endorsed by, any company mentioned. All trademarks and intellectual property used or displayed are the property of their respective owners.