Black Girl Magic Summit inspires 50,000 attendees
Capital One partnered with Boss Women Media for the second year in a row to host the Black Girl Magic Digital Summit August 21-22, 2021. Thousands of attendees joined the two-day event focused on upgrading all aspects of life–including physical, emotional, mental and financial well-being.
The programing was streamed on Amazon Live and Amazon Fire TV, reaching and empowering a global network of more than 50,000 women who are corporate professionals, entrepreneurs and student changemakers at Historically Black Colleges and Universities (HBCUs).
Highlights from the Black Girl Magic Summit
The summit was filled with meaningful conversations from leaders across Capital One and partners who shared knowledge and resources for success.
Capital One's Card Chief Operating Officer Celia Edwards-Karam and financial expert and author Patrice Washington kicked off the event with an honest conversation about having confidence with your money.
Attendees were encouraged to not only have confidence with their money but also with their voice. Capital One's Vice President, Diversity Recruiting, Shavonne Gordon, and Senior Director, Talent Diversity Acquisition, Kanika Raney, sat down with Jessica Pumphrey, Corporate Communications, for an empowering conversation about owning your voice and story in the workplace.
Announcing the Black Girl Magic Pitch Competition Winners
The momentum continued with the Capital One sponsored pitch competition, where finalists shared their entrepreneurial journeys and passions with attendees and a panel of Capital One and Boss Women Media judges.
Three women-owned small businesses were selected for $25,000, $15,000 and $10,000 grants. Learn about the grant recipients below.
First Place: Monisha Edwards, Scent & Fire Candle Company
Monisha turned to aromatherapy and burning candles after being diagnosed with anxiety and depression. Out of this discovery, the Scent & Fire Candle Company was created, providing eco-luxury candles and fragrant consumables made from raw materials. Paired with a digital wellness app that provides free and low-cost mental health resources, Scent & Fire aims to help destigmatize mental health in marginalized communities.
Second Place: Ashley Young, Bridal Babes
Ashley struggled to find the perfect dresses for her bridesmaids–ones that both supported her vision and that were made for diverse figures. Out of this moment, the idea for Bridal Babes, an online bridal-wear boutique was formed. Bridal Babes provides fashionable and affordable bridal attire in sizes up to 3XL.
Third Place: Jacquelyn Rodgers, Greentop Gifts
Jacquelyn and her husband wanted to have holiday memories that reflected the diversity of their family after noticing the limited Christmas decor available for Black people. Greentop Gifts brings diversity to celebrations by providing more representative decor to homes across the United States.
Associates Share Their Experience Attending the Summit
The summit worked its magic, sparking inspiration among associate attendees across Capital One.
"It inspired me to believe in myself and to surround myself with a strong support system," DeVarshan Stratton, Sr. Recovery Coordinator, said. "It inspired me not to give up on my aspirations and dreams."
To Shalanda Martin, Customer Service Coordinator, Black Girl Magic means reaching for opportunities of power and helping others along the way. It's "women of color empowering other women of color to put themselves out there," Shalanda said.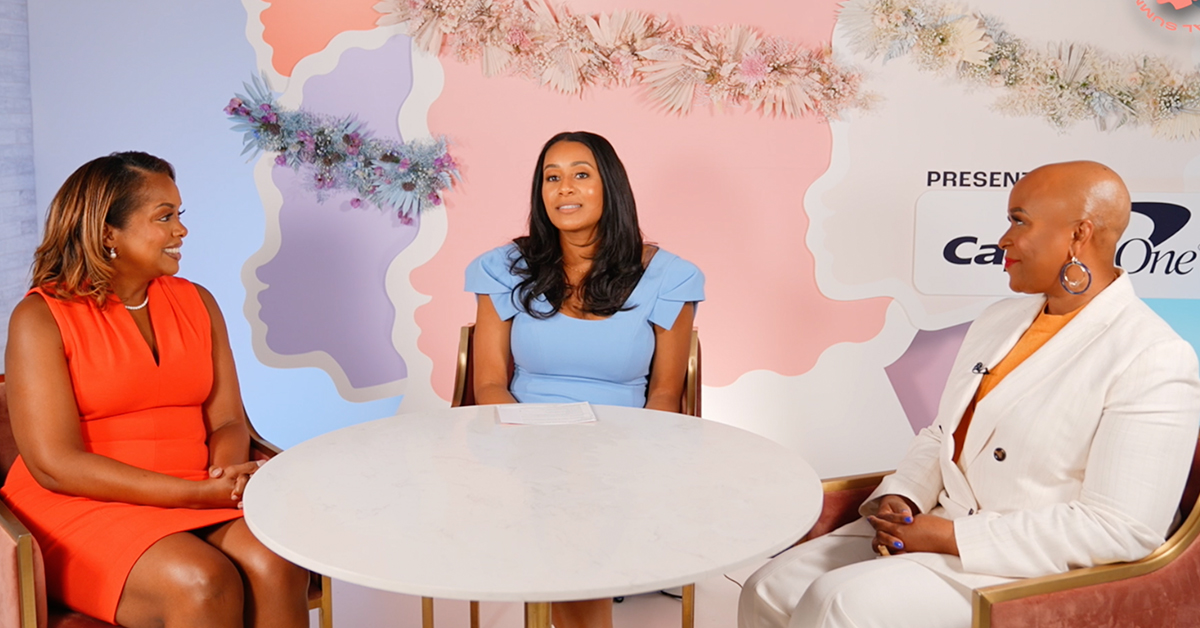 A Peek Behind the Curtain
An incredible amount of work goes into executing an event of this magnitude–with teams across Capital One and beyond involved in making it a success. Jessica Pumphrey was the project lead for the event, developing partnerships and leading a core project team.
"The Black Girl Magic Summit continues to be a rallying call for not just our customers and communities, but also for our Capital One associates," said Jessica. "This event, and our partnership with Boss Women Media overall, is a testament to the great things that can happen when we take time to listen, celebrate and empower women of color."
Corporate Communications team members Bridget Phelan and Crystal Taylor supported the event's internal communications and marketing.
"One thing I absolutely love about Capital One is the opportunity to engage in projects outside of my everyday role," Bridget said. "I'm so grateful to have been involved in the Black Girl Magic Summit again, and witnessing how the event evolved from last year to this year was really special."
"Since joining Capital One this year, I've been continuously amazed by the opportunities to support such meaningful projects,'' Crystal said. "Watching in real-time as black women inspired and empowered others was truly a magical sight, and I'm glad to have played even a small part in that."
Copyright © 2023 Opinions are those of the individual author. Statements are deemed accurate at the time of posting. Unless otherwise noted, Capital One is not affiliated with, or endorsed by, any company mentioned. All trademarks and intellectual property used or displayed are the property of their respective owners.