A day in the life of a Loss Mitigation Specialist at Capital One
How can you make a direct impact on customers and help resolve their problems? Can you do this while finding enjoyment and excitement in your daily work? For Loss Mitigation Specialist Carolyn, who works in the auto finance department, there is a deep sense of satisfaction and pride that comes from solving problems and connecting with customers.
Her primary goal is to make sure the customers she speaks with are able to keep their vehicles. She is focused on helping customers find solutions to make their payments, stay on track with those payments, and improve the experience the customer has when engaging with her and her team. She does her best to make sure they weather this stressful time and find a solution together. Each customer interaction is unique and Carolyn's days are spent doing a variety of tasks to help the customers she serves. To help others understand what her role entails, she shared what a typical work day could look like for her, in her own words:
7 a.m.—"To get ready for the work day, I take a look at my calendar and what I'm expecting for the day, as far as meeting, training or things outside of work.
7:30 a.m.—I wait for my first call to come in. I'm on calls most of the day, helping identify solutions for my customers. When they call in, they're stressed. I often say to customers, 'I've been doing this for quite some time and I'm a pretty good de-stressor. So let me see what I can do to de-stress you today. I'm here to help you,' and I'm putting it on me. I'm not only going to see what Capital One can do for them; I'm seeing what I can do for them. And I make it more personal. My goal is to keep the customer driving their car.
8:30 a.m.—More calls, more time offering great customer service! While on the phone with customers, I do everything that's in my realm of possibilities to figure out ways to get them back on track. And I'm pretty good at it. I feel really confident in my role and my ability to do it because Capital One offers lots of training opportunities. I had training when I first started in the role and they continually follow up with other opportunities to learn so I feel ready to handle any situation.
I try to take care of each customer in the best way that fits their unique needs when I'm talking to them. There are lots of options, including programs created to ease financial burdens caused by COVID-19. Because each person's situation is unique, I listen carefully to what they're telling me and find a solution that fits their specific needs.
10:30 a.m.—When we were in the office, a few of my team members and I would take a break to walk and chat. Because of the pandemic, most of us are working from home at the moment. I am still able to use this time to get up and stretch, have a short break and take a walk around my neighborhood. I miss having people next to me but I can do my job just as well from home as I can from the office. My new work from home commute is great from my kitchen to my work space, and I'm enjoying remote work. The team also has a chance to connect through messages or in virtual meetings.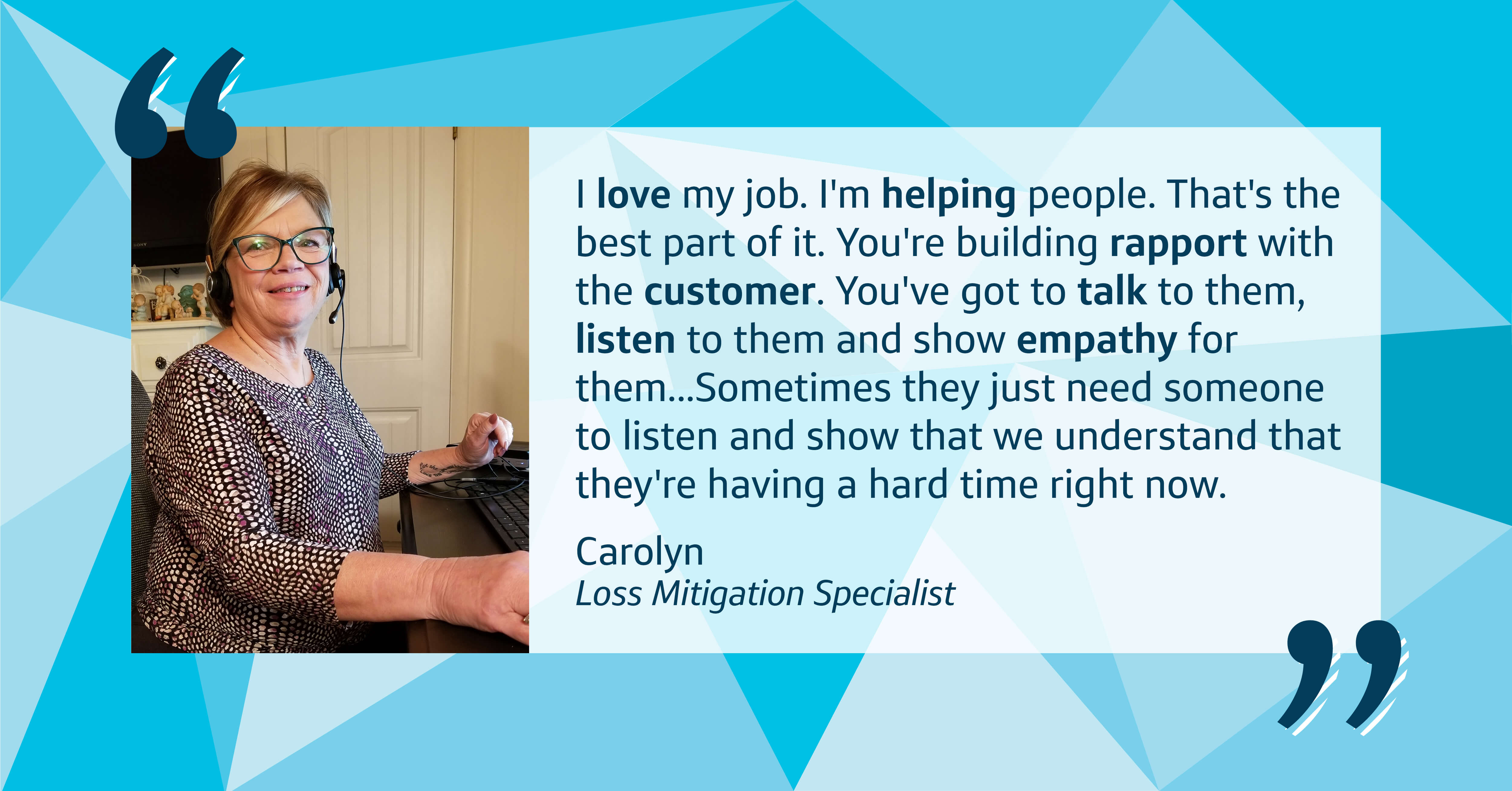 11 a.m.—I just hung up with a customer who was crying with relief and appreciation as they got off the phone with me. She was so nervous when she got on the call because she wasn't sure what to do or if this phone call was going to make a difference. She came to the right place though. My job is to help and we were able to find a solution that worked for her and felt like a manageable path forward. The sense of relief that everything will be okay was so great for her. I love my job. I'm helping people. That's the best part of it. You're building rapport with the customer. You've got to talk to them, listen to them and show empathy for them. It's like a mix of being an accountant and a psychologist with our customers. Sometimes they just need someone to listen and show that we understand that they're having a hard time right now.
Noon—Lunch time!
2 p.m.—Attend a Business Resource Group (BRG) event or workshop. I'm involved in the empowHER, our Women's business resource group, where I serve as an Event Lead. I help plan events and workshops for the group. These days, our events are over Zoom. Most recently, we had a speaker that gave a talk on staying true to yourself and preparing your mind for reaching your goals. It was so motivating and enlightening to hear. I appreciate being able to grow personally and professionally, while also helping others with the skills I've learned and connecting them with career growth opportunities like these speaker sessions.
3 p.m.—Time for our daily team huddle where I connect with my manager and team. We discuss highlights from our daily calls and celebrate shout outs from customers we received in feedback. We also talk through techniques and ideas for dealing with tough situations and challenges on calls. Beyond this huddle, I'm in touch with my team all the time. We have a chat open where we can ask team members questions throughout the day. Capital One gives us all the tools we need. For example, we have a solution finder program that guides us to the best options for a customer at that point in time.
4 p.m.—I wrap up my day feeling grateful. I was recognized for my work with a customer on a call in the previous meeting, which felt really great that I had done well enough to be noticed. I appreciate how eager and willing my team, and the company, are to celebrate associates like me that are passionate about doing their job well. I've been given a Gold Club recognition, which is for the top 10% of people in my role who go above and beyond to serve customers. If you receive three Gold Club recognitions, you are in the Platinum Club and you get a wonderful award. I am hoping to make that designation very soon. It feels so great to love the work I do and also be recognized for my passion for the work."
No two days in the Loss Mitigation department are exactly the same. For associates like Carolyn, there is always a new customer awaiting care, compassion and support to work through the challenges they are facing. Carolyn's commitment to making a difference and serving her customers has a direct impact on many peoples' lives each day, including her own, working in a career where she feels so rewarded.
Are you ready to make a positive impact on customers' lives while doing work you love? Be sure to check out customer care jobs.
Copyright © 2023 Opinions are those of the individual author. Statements are deemed accurate at the time of posting. Unless otherwise noted, Capital One is not affiliated with, or endorsed by, any company mentioned. All trademarks and intellectual property used or displayed are the property of their respective owners.