6 lessons Allie learned while battling breast cancer
On May 3, 2019, I had coffee with a friend. Why do I remember the specific time of what could've been a run of the mill coffee date? Because the conversation we had was one that would change my life forever.
On that day, I didn't know that life was about to throw me its biggest curveball yet, or that that curveball would be more than a disease I had to fight. It would be a source of truth. Over the past year and a half, I didn't just discover that I had cancer, I discovered that hope is truly real, that through any patch of darkness, there is always light and that my friends at Capital One are really an extension of my family.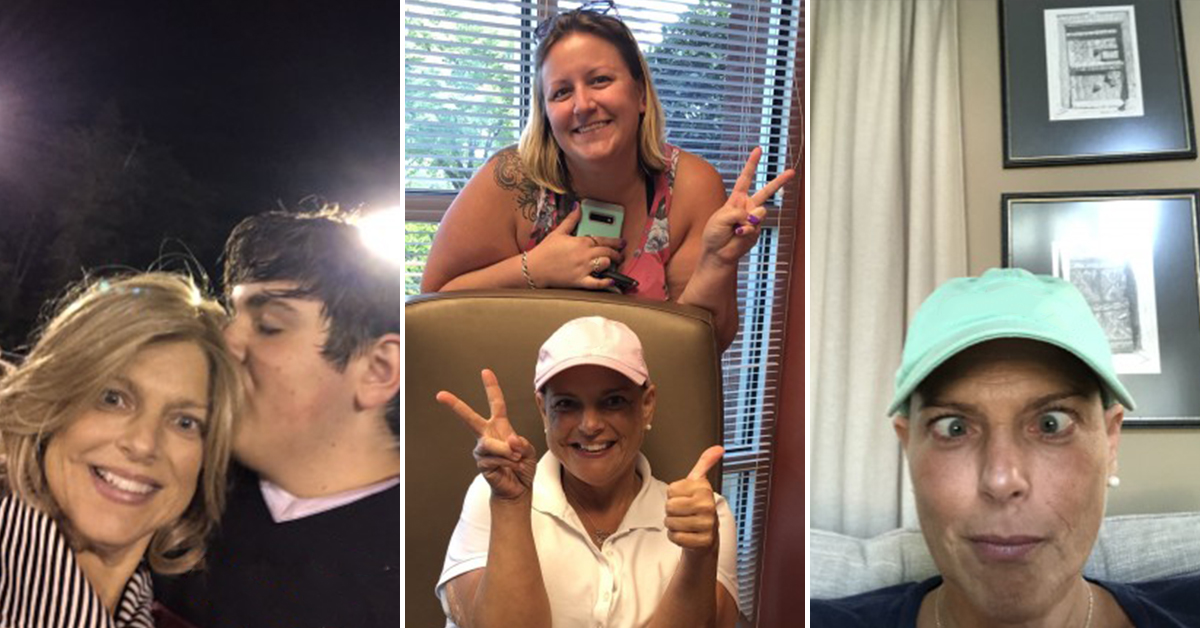 A life-saving conversation with a friend
But let's start with that all-important coffee date. My friend and I were discussing a big life decision I'd recently made, and to be sure that I would have the strength to continue on that journey, she started asking about my health. One question she asked was followed with an eerie silence… "Allie, when's the last time you had a mammogram?"
Silence.
I'd never had a mammogram, but I also wasn't worried about getting one. After all, there was zero history of breast cancer in my family. So, I tried to laugh her question off, but she got serious on me and insisted I get one. That's why I will always remember May 3. Because that was the day my friend may have saved my life.
At 49 years old, I waltzed into my first ever mammogram appointment in true Allie fashion, feeling positive and sure that I'd soon be able to hush my friend's concern and be on my merry way.
So, you can say that I was completely shocked when I got a call the next morning. A nurse told me they wanted to see me back right away for more imaging because they'd seen some abnormalities, but she reassured me that abnormalities are seen all the time. No problem, I thought. And I went to appointment number two with the same optimism as I had before.
Even as the doctor was performing the exam, I had a smile on my face and kept joking with him until he got really quiet. We finished the test in silence, and he told me he'd be back after I got dressed. I still thought, "No biggie, it's probably calcification or something," so I was sitting there alone on the exam table when the curveball was thrown.
I knew something was wrong as soon as he walked back in, his eyes held a pity that could only mean one thing. Breast cancer. Stage 2 Breast Cancer to be exact and further testing was required. I so vividly remember sitting there, crying in the doctor's arms, feeling like I was having an out of body experience. I was in total disbelief. "I am a cancer victim," I said. "No," the doctor quickly corrected, "You are a cancer survivor."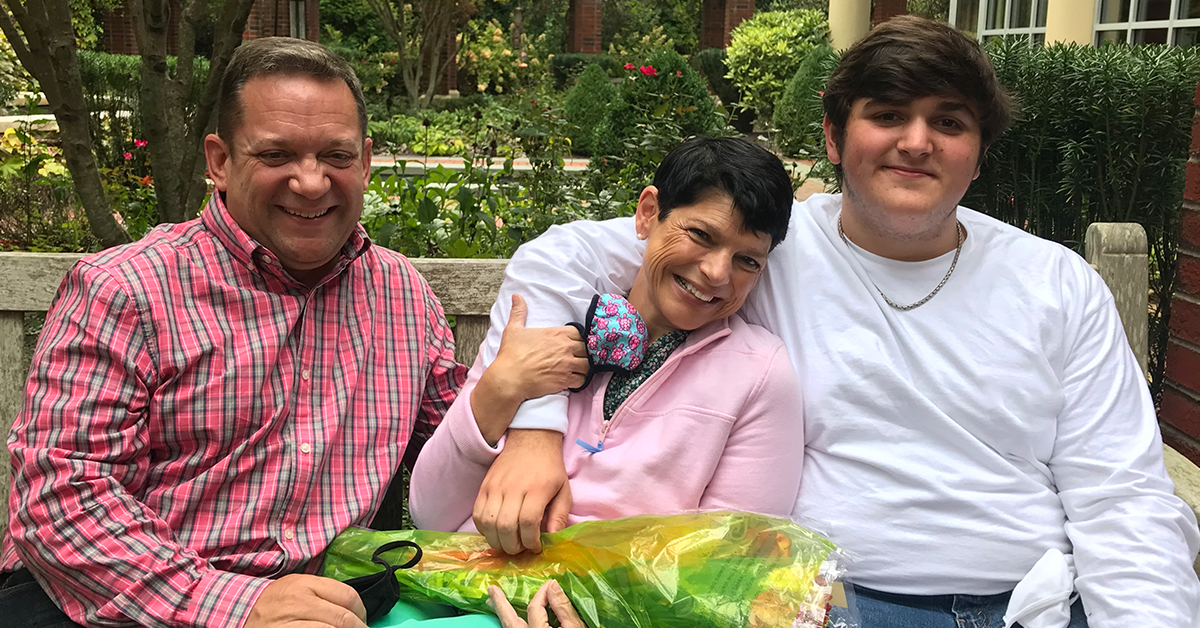 Starting a new job while beginning a battle for my health and my family
Within a week, my whole world was turned upside down. In the midst of the tests, the multiple doctors and the determination of my treatment plan, I'd also just accepted a new role, my current role as Chief of Staff supporting Maureen Jules-Perez, VP, HR Tech. But out of all the challenges at that time, the hardest for me was figuring out how to tell my children.
I have two boys, George (17) and Alexander (22). I spent many restless nights Googling the best approach for breaking this news to them, but I finally settled on what felt right to me—tell them the truth, with love, and let the rest just happen. This has been such good advice for me, and in this case was definitely so true. My boys met me with a calm optimism (that I think they got from me!) They said, "Mom, you are the strongest person we know, and we know you got this!"
So, that was how I began my journey—positive and feeling strong—and I haven't missed a beat since. I respect my cancer, but I don't let it define me. I've done everything I can to keep up my routine. I get dressed every morning, even if it's just changing my shirt and my socks. I go on a walk, even if I can't do my usual 45 minutes. And minus some time I've been required to take after surgeries (doctor's orders!), I've kept working.
The next 16 months were filled with 19 rounds of brutal chemo, 25 radiation treatments, multiple surgeries, tests and doctors, but all of these were made more bearable by the support of my boys and my Capital One family. We laughed when my hair fell out (which made for a hilarious Uncle Fester Halloween costume!) and my brain became mush. I quickly embraced baseball hats and beautiful wigs. My teenage son and I even made TikTok videos to keep us busy and entertained.
My team, Maureen, my Capital One family and the benefits at Capital One have been incredible resources to me—not just workwise, but spiritually. They've kept me in good spirits, checked in on me, sat with me at my chemo sessions pre-COVID, set up coffee dates to make the long drive to radiation extra special and set up a team that I call my Capital One elves. Somehow, whatever I've needed done around my house, it's been taken care of. It's been amazing.
I can't say enough about how this support has helped me stay positive and strong, even as life continued to give us new, unexpected challenges.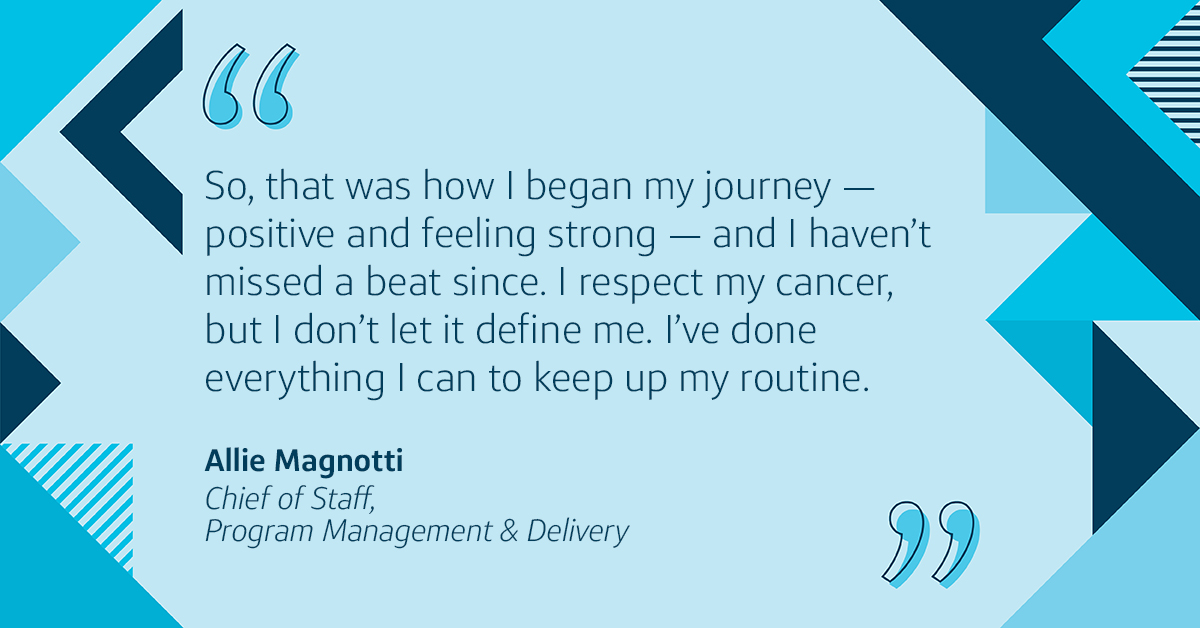 Fighting to remain positive in the midst of change and sadness
In November of 2019, we found out that my mother was diagnosed with advanced lung cancer. She bravely attempted to fight it with radiation despite her odds. Sadly, she lost her battle on January 11, 2020. My mother was truly the most gracious and selfless person that you could have met. I believe her angel wings came earlier than expected, and I know she wants me to focus on my health while she guides and fights for me from heaven.
2020 began as a tough one, but when my son's Spring Break rolled around a couple months later, we wanted to keep the positivity rolling and celebrate how far we'd come. While we were on this cruise, disconnected from the world, COVID hit. We landed back in Florida, and to our complete surprise, the country was actively shutting down.
As we got home, I quickly had to figure out how to keep my son safe while I also kept myself safe. And while COVID has been challenging, I feel like I've been able to take on a different superpower—making everyone else happy. Some of what was hard for others at first—working from home, sanitizing everything, connecting virtually—I was already living that life. I knew what it was like to be shipwrecked, so I knew what people needed to stay afloat.
I loved being able to support our team with personalized care packages. I really thought about what each person and their families needed to feel okay, just like my Capital One elves do for me, and I have sent regular gifts to keep smiles on their faces.
So while I've continued to adapt to yet another curveball with COVID, I've done everything I can to keep my positivity by my side.
Lessons learned and experiences to share
My last chemo session and last major surgery both came at the end of September and I've been reflecting on all I've learned in the past year and a half. So, I wanted to share some of these lessons and Allie-isms with you:
First, you don't always have to operate at 100%, or 150%. Accept help when you need it and when it's offered.
When life throws a lemon at you, catch, squeeze it and make lemonade—better yet, make a margarita (strong one, if needed).
Even in your darkest moments, you will get through. The middle sucks, but there's always light, and I've seen that light a few times.
In order to see a rainbow, you need to see rain—and when it rains, dance in it, put your red boots on and jump in the puddles, and don't forget to stick your tongue out to grab some drops along the way.
Hug your loved ones, virtually if that's your only option, and never, ever take your health for granted.
Look for the nugget of positivity in everything—if you look hard enough, it will pop out. Make this a habit and you will forever be an optimist.
And finally, October is Breast Cancer Awareness month, so please, please get your mammograms and encourage the ladies in your life to do the same! Even if you have no family history, even if you're completely healthy otherwise, this should be part of your regular medical care.
Copyright © 2023
Opinions are those of the individual author. Statements are deemed accurate at the time of posting. Unless otherwise noted, Capital One is not affiliated with, or endorsed by, any company mentioned. All trademarks and intellectual property used or displayed are the property of their respective owners.