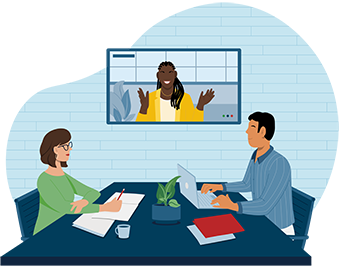 Advise at the top
We're a small team of internal consultants. We work directly with the CEO and senior leadership to advise Capital One's most important strategic decisions and collaborate to solve the toughest challenges in financial services, technology and beyond.
Here you'll make an impact by helping shape future initiatives, partnering with key business leaders across the organization and providing leadership, thought-partnership and support to teams and associates. Together, we're relentlessly driving Capital One toward growth and innovation.
Meet our people
Our leadership
Some of the brightest minds in the industry hold leadership positions in the Strategy group. They bring expertise from top consulting firms, business schools and global companies—driving problem solving and innovation while holding space for every voice to be heard.
Meet our people
Our associates
Smart, analytical and entrepreneurial—we believe that fresh perspectives and diverse backgrounds can identify opportunities that are often overlooked.
From the CEO
Start your journey
We're excited about where it may take you! Begin your job search or connect with us about future opportunities.

Join the Strategy Group
Like what you've seen and ready to launch your career?
What's next?
Sign up for an upcoming event, start your application or learn about our interview process.
Find a student program
How are you looking to grow? Discover which program is right for you.
Get support, have fun, make an impact
A culture of belonging
Together, we're on a journey to create a more equitable future for all. Business Resource Groups (BRGs) play a central role in moving us toward a culture of inclusion and belonging at work.
Complete benefits
Our unique benefits and enrollment programs are designed to help you live your best life at and outside of work.
Balance makes work better
We're all about finding our stride and collaborating in a meaningful way. Together, we're changing banking for good, for all.